What strikes most first, about  Jathon Delsy – a musician based in London, England, who composes, arranges, performs and produces his own music – is what a colorful persona he projects in an extremely dull musical era. And I mean that, in every sense of the word 'colorful'.
Jathon Delsy is the epitome of any and everything contrasting thoughts or actions that are conventional, stereotyped, orthodox, or negatively tralatitious in nature. Jathon Delsy is the person you may have become if you had the courage to repudiate society's restrictive and hallucinatory morals, rules and regulations derived from way before the stone-age.
And made even worse in the modern age of technology, where 'copy and paste' is the order of the day, and where allegiance, adherence and conformity to 'this' or 'that' group has become essential. We're forced to 'Like' and 'Follow' to be identified and appreciated today.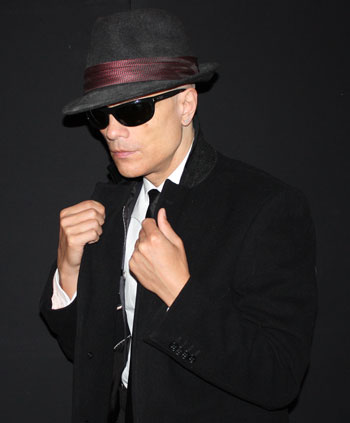 Well none of this falls into Jathon Delsy's mindset. Delsy doesn't follow the beaten path; he creates his own, with all the suffering and difficulties that may be at hand. On one of his latest tracks, "For Real", Delsy clearly and unabashedly spells out his vision of society's deficiencies:
It's easy to pretend, echo the trend
And tumble on the tide, a ready ride, a safer side
It's easy to remain, to plan the plain
And learn to linger long, a reason wrong, a sorry song
It's easy to believe, yourself deceive
And walk the weary way, a gradual grey, a darker day

And then he goes ahead to exclaim his own personal position in the scheme of things:
But here and now am I
Suffering to be, giving it for free
My painted pleasure
Struggling to smile, singing it with style
By the sacred seal, wide awake I feel
Doing it for,,,,
Lyrically, Delsy is to be considered of a 'higher' intelligence compared to what we're acquainted with on mainstream radio, but musically he pushes that envelope even further, with sumptuously complex arrangements, filled with exquisite guitar lines and riffs, warm orchestral backing and layered vocal harmonies that climb all the way to falsetto.
All of this is naturally wrapped in sweet, almost playful melodies on "For Real", that tease, tantalize and provoke. It's like having the airy vocals of Jon Anderson, the eclectic arrangements of Frank Zappa, and the guitar prowess of Steve Vai all embodied in the same person. And with just a tiny aura of Monty Python's Flying Circus' eccentricity finding it's way into the big picture somewhere.
If it all sounds like a rather over-hyped tall order of sorts, it's not. It's simply someone daring to be different. And when we discover someone like Jathon Delsy, who steps up and out of the usual monotony that surrounds us, we trend to lose our bearings and go off into tangents.
I've called Delsy a genius before, and I might even do so again. I don't think it really matters to him either way. One thing however, cannot be denied, Jathon Delsy is a precursor of our time…and not just musically!
Check out Jathon Delsy on YouTube.
Please follow and like us: