StutterFingers is the solo electronic project of a self-taught jazz guitarist from London, UK, who uses analogue synths and heavy processing. He experiments with microtonal or "xenharmonic" music and using sample manipulation to create unique textures. This latest offering from StutterFingers, entitled "Netdump One", is a breath of fresh air to me, personally.
There is a linear quality to many of the tracks where he builds from a beat and rhythm and evolves from there. There is also a respect for space, and the use of space in these tracks, rather than piling on the sounds, which is brilliant at times.
"Netdump One" is a gorgeous slice of abstract tonality and rhythms making the album more of a patchwork of tracks, working as a whole. Despite the differences from one track to the next, there is an overall mood and feel that holds it all together. Anyone familiar with StutterFingers' work knows it will take a good amount of attentive observations to make a full assessment of what they're listening to.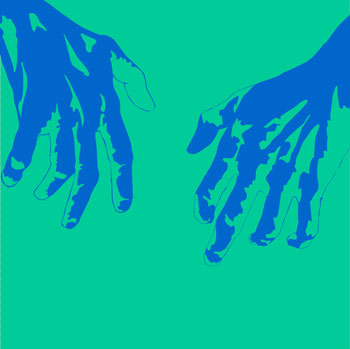 This may be a little bold of me to say, but if you're a brave adventurer with an open mind looking for something freshly abstract, "Netdump One" may just be the right introduction to StutterFingers. It was for me, especially since the rhythms are particularly funky and catchy making everything seem rather accessible.
StutterFingers makes music that is seemingly outside the comfort zones of about half of electronic listeners. Except that it isn't, its' simply being three things – innovative, original, and brilliant. While at the same time, having a certain grounding, in familiar melodic and rhythmic patterns.
From the opening track "Mystery Stank (Ft Mr. Asthmatic)", there is a lot happening here – lots of punchy, frantic beats and growling bass synths – but there's also plenty bubbly air around them to let the music breathe. "Ragdoll Physics" is a cheeky romp, with bleepy synths, peppered snare beats and bass thuds, plus voice samples morphing into a more roomy, squelchy and skittery development.
"Fuch's Ache" develops into a skittering, 8-bit-esque shift-fit. "Squiffy" is freewheeling and playful, but its every warbled note betrays consideration and technical expertise that obviously didn't come overnight. In terms of impressive twists and turns in this song, they're myriad…and all in the space of 2 minutes and fifty seconds!
StutterFingers succeeds with delivering music that's intricate and forward-thinking while still landing well within the listener's grasp. Tracks morph, pressurize and reorganize, but never break down, following a completely unpredictable yet utterly natural logic.
I have no doubt that StutterFingers has given us an outstanding work of electronic music. "Netdump One" is a record so immune to contemporary styles and aesthetics it is almost by definition timeless. The deeper you sink into this recording the less you'll be concerned about its tuning system but more by its tonal temperament and all the rhythms combining around you.
OFFICIAL LINKS: BANDCAMP – TWITTER – FACEBOOK – SOUNDCLOUD – YOUTUBE
Please follow and like us: