Chicago's own HenniDaPoet is making a name for himself in the indie rap and hip-hop world with his latest album "A Urban Come Up". This release is on par with the big label heavyweights in terms of quality, and showcases HenniDaPoet's distinct vocal style. The artist effortlessly transitions between singing and rapping, creating a sound that is really one-of-a-kind and impossible to imitate. This is a true showcase of HenniDaPoet's talents and cements him as a rising star in the industry. HenniDaPoet has proven himself to be a lyrical powerhouse with his latest 7-track project. The Chicago artist highlights his undeniable talent as a wordsmith, setting the bar high from the very beginning with his clever wordplay, smooth flows, and emotive storytelling. The highlight of this album is HenniDaPoet's raw and honest lyrics, which truly set him apart as a master of his craft.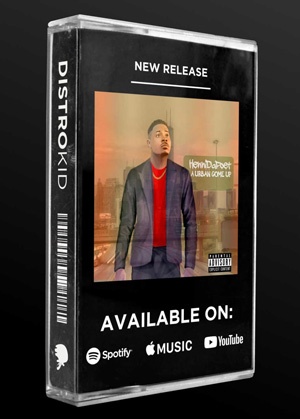 One can't help but fall in love with the opening track, "He's One Lucky Kid", which comes just after the brief introduction, "Hey Timmy (Intro)". On the track, HenniDaPoet begins like an artist who knows he's about to snatch the hearts of listeners with his affecting lyrics and soulful delivery.
His voice reverberates above the luxurious and harmonious backdrop. Meanwhile, on "The Prescription", he continues to spread the architypes of his craft, supported by a mellifluous female voice on the hook.
While most modern rappers aim to draw attention to themselves, HenniDaPoet opts to focus on the messages and the audience who needs to hear them most. There is so much to unpack on each song HenniDaPoet creates.
From his alliterative rhyme patterns to his wonderfully woven metaphors and his thought-provoking words, the emcee finds creative ways to keep the audience glued to his music. "A True Original (Interlude)" is awash with vintage scratching and an old school aura.
"A Fool's Quest" unpacks all of HenniDaPoet's rhythmic instincts as he slips into the pocket of the groove. The drums knock and slap, the keys swirl in a psychedelic haze, while on top, HenniDaPoet rolls out his captivating rhymes in a laidback tone that mesmerizes.
"If I" brings forth hard rolling basslines and a banging beat with layered backing vocals, forming a solid foundation for HenniDaPoet's raps. The album closes with the funky "Clap Your Hands", featuring twisting guitars and thumping percussion.
Something about this album feels spiritual just as much as it sounds conscious, as the flow of HenniDaPoet and his poetic wordplay allows the recording to sound fresh yet old school. Hip-hop nowadays is filled with rappers who rely solely on the hype and the production to keep the listener entranced. This is simply not the case for HenniDaPoet.
"A Urban Come Up" makes you think while the production engages you and the rappers craft locks you in permanently. The classic production is so strong that an instrumental version of "A Urban Come Up" could have a successful solo release of its own as well.
However, the union of HenniDaPoet's profound writing style, and versatile vocal deliveries, along with the soulful production is what really makes this album special. "A Urban Come Up" is available on all major digital platforms.
OFFICIAL LINKS: SPOTIFY – YOUTUBE
Please follow and like us: