For all of us who appreciate strong grooves, outstanding musicianship, and creativeness nurtured on history and tradition, Gumbo le Funque is one of the best bands out there. Established in 2011, Gumbo le Funque is a Colorado band influenced by the entire tradition of the second line and traditional jazz, as well as by the power funk that oozes forth from New Orleans. The band's latest album, "#PowerLoveFreedom", releases February 6, 2016.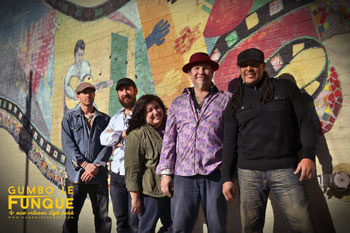 Every track encompasses a different style. From the heavy classic guitar riffs, to the funkadelic bass pockets, this album surrounds a multitude of genres that will surprise and mesmerize you. "#PowerLoveFreedom" is the type of album that has a momentous sound that'll be sure to linger in your head for days. It is a worthy record that delivers pleasures from start to finish. You get flavors of New Orleans mixed with funk that takes you back to the day when funk ruled. It's a welcome departure from the current R&B landscape that is sounding pretty tired.
Gumbo le Funque is Jason Justice -Saxophonist, vocalist and band leader, Chris Anton – guitarist and vocalist, Chris Harris – bassist, Chris Beers – Drummer and Andrea Mérida – Manager and vocalist. Together they dish out smooth old school grooves, neo-funk, eclectic and smooth jazz, all wrapped up in one. What is there to say except that this group's musical genius brilliantly and beautifully brings all these genres off into a wonderful blend of extraordinary musical melodies that moves the soul, the mind, and gives the listener a higher plane of listening pleasure to their senses.
This album really strikes me as a major achievement. From the moment it kicks off with the track "Maceo", Chris Harris comes across as a minimalist master on the bass, constructing grooves so spacious you can sit in them. Jason Justice's sax is crisp, clear and true. The whole track shines through with a nice arrangement and a sweet lilt on guitar by Chris Anton. The drumming by Chris Beers is top notch…dynamic and exciting. It's a very special effort from an amazingly tight band. And the album only grows better from there on out.  "Groove it While it's Happening" find the band at their peak, artfully blending their jazz experiments with equal parts funk and soul, while Jason Justice's voice is superb.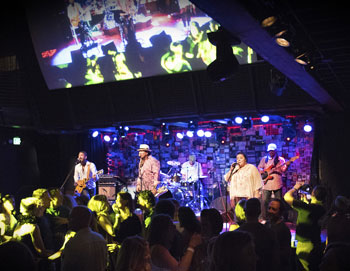 But every song on here is a masterful blend of funk and contemporary jazz with varying other flavors. You can't help but get up and shake your booty a little. It is phenomenal that a modern band can successfully produce old-school groove with such confident fortitude. These songs are complex and seductive, but done like second nature for this band. The title track, "#PowerLoveFreedom (feat. Mike Wird)", being a perfect example of the rhythmic and melodic prowess Gumbo le Funque possesses.
"I Can't Party (Like I Got No Job No More)" as well as "The Strut" and "Star Funk" are all high octane, highly crafted, explosively powerful jazz-funk combinations. There is just something about the way the melodies, bass lines and guitar riffs all overlap in these churning, pulsing harmonies, that hit exactly the right spot for Gumbo le Funque's approach to the groove. There are also lots of slinkier moments too, with slower-burning tracks like "Stay With Me Until We're Done" and "Midnight (feat. Mike Wird)".
This is a musical generation that needs to understand what this genre is about instrumentally, the musical and rhythmical challenges and resulting joys it brings and provides. And if albums like "#PowerLoveFreedom" are to be part of that understanding, so much the better!
OFFICIAL LINKS: WEBSITE – BANDCAMP – FACEBOOK – TWITTER – YOUTUBE
Please follow and like us: