Royal Hills is a five-piece indie rock band from Montreal, Quebec, consisting of Alex Campanelli – Vocals/Guitar, Justin Cuffaro – Guitar, Lucas Cuffaro – Bass, Michael Tomizzi – Drums and Davide Ventulieri – Guitar. The band has just released its 4-track, self-titled EP. Don't go into this like your mind will be blown; go into it with skepticism, therefore you cannot be let down. Don't give them the credit and make them prove it to you over the four songs that they are an amazing young band.
Their music is electric, it's exciting, it's raucous, it's raw, and it's everything you want it to be. And the songs have intelligent lyrics that aren't annoying or idiotic. Royal Hills integrates addictive guitar riffs and drum beats with moody, infectious vocals that keep you listening hard. The song compositions are rock-solid, surprising, and surge forward while taking you along for the ride. The drumming is tastefully awesome, complimenting the ecstatic guitar work, and Alex Campanelli's wailing-to-subdued vocals, bringing together a great alternative-rock sound.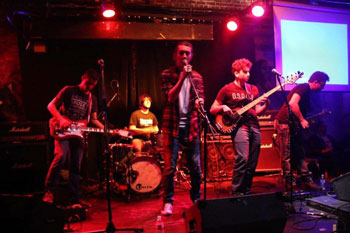 Royal Hills can throw down some power chords and scream some angsty lyrics better than most indie bands. But they also have skills at song-development and delivery that elude even the best acts of the most recent indie movement. This much is evident on tracks such as "Large Room" and "Run". In between, "Smoke and Dust" will satisfy your more subtle indie-pop taste buds, while "Way To" is a little more frenzied and urgent with splendidly played, rolling-drum rhythms. Throw this to together with some sizzling lead guitar work all the way through, and you know you're in for a roaring time.
The development of music is about two things: experimentation and the mixing of that experimentation with the very foundations of the music you enjoy. Royal Hills is one of few young bands of this age that does this effectively and creates a superb EP that is full of experimentation but also incurs the fundamentally sound basis of guitar-powered rock.  The band has a downright incredible rhythm section. The drums are tight and intertwine with the bassist so well that they appear to be very nearly one. Check out "Run" to validate my theory. The guitars are tight and controlled, and occasionally explode into solos characteristic of bands that we have long seen the end of.
If you already own the Royal Hills EP, pay special attention to tracks 1 and 4, as they're firing on all cylinders. If you don't own it, get it, play it loud and you'll see why!
OFFICIAL LINKS: BANDCAMP – FACEBOOK – SOUNDCLOUD
Please follow and like us: