During a time when many of our musical titans are now well into their golden years, the business is full of bands and singer-songwriters who have aged extremely well. Times have changed and the music business has changed even more so, and through it all, Robert Allen of DownTown Mystic has always remained a convincing songwriter, musician and producer. The overall quality of his recent albums and singles have continued to delight fans, and surprise the industry with releases coming via the independent Sha-La Music, Inc., and in collaboration with anyone else Allen managed to close a deal with. On April 19 DownTown Mystic dropped the digital single "The Wish", and on May 17 "The Wish EP" sees the light of day in Europe. The EP will be released by Last Man Music, as part of the deal between Sha-La Music and BMP Broken Music Publishing in the UK, and distributed in Europe and the rest of the world via The Orchard/Sony Music.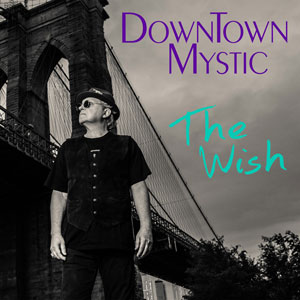 The EP contains 5 songs, on which you will find various guest artists, like guitarist Stephen DeAcutis a.k.a. Stevie D., or the top-notch rhythm section of drummer Steve Holley (Paul McCartney, Ian Hunter) and bassist Paul Page (Dion, Ian Hunter).
The songs on "The Wish EP" all have a story to tell, and sweep from the languid jangling guitar lilt of 'Tomorrow's Clown' to the down and dirty, rocking road song 'No Exceptions (Radio Mix)', then onto  the upbeat rock n' roll jive of  'Modern Ways (Live)'.
You'll adore the romantic musings of 'Love Light' which cuts deep lyrically and stomps its observation home with layers of ringing guitars and banging drums and smashing cymbals. This is good old classic rock style songwriting over clear instrumentation, where you can hear everything just where it needs to be.
Project leader Robert Allen seems to never lose his knack at writing, interjecting his sheer power of musicality over the entire recording with a powerful consistency. A great storyteller, the dissection of his subjects are both cutting and telling.
If anything the record's sound, while working as an appropriate backdrop to his narratives on "The Wish EP", feels excitingly familiar and sonically dynamic, uncovering his clever melodies in something wholly engaging.
Furthermore, the backing band that forms the backbone of DownTown Mystic have the ability to go in whatever direction the songwriter and producer Robert Allen has chosen, and there are plenty to choose from on this EP. Few artists have so been stylistically loyal to rock n' roll and its heritage, as Allen.
Clearly the centerpiece of this Ep, is the title track, 'The Wish' – initially recorded in 2009 – which has its own back story: "I'd been playing around with the music since the mid-80s and finally recorded a track as part of the Standing Still project, but decided that it didn't fit with the other songs so I abandoned it," recalls Robert Allen. "It wasn't until last year when I re-discovered the track and finally had some time to write lyrics I was happy with. The original version was more up-tempo, but Steve Holley suggested we do it in half-time, which slowed it down and gave it a much stronger groove."
'The Wish' is a great tune on its own and utilizes Robert Allen's patented raconteur skills to spin an emotional yarn of love: "Emotions feeding, so much feeling, words can never know. Emotions feeding, so much feeling, attitudes of gratitude are showin'."
Allen sings with his usual animated authority, but there is now an unmistakable yearning in his voice. Robert Allen's stylistic devotion to his work extends to every note and nuance. If you want great writing, awesome presentation, fantastic production, then DownTown Mystic is for you.
OFFICIAL LINKS: WEBSITE – FACEBOOK – TWITTER
Please follow and like us: