Shaun Oster AKA Doublehead is a Drummer, Singer, and Composer. Deeply studied in Jazz drumset, he weaves unique rhythms into his electronic funky music. Influenced by authentic singers such as Bjork and Tom York, Shaun actually studied voice with the same teacher as Bjork – Ron Anderson.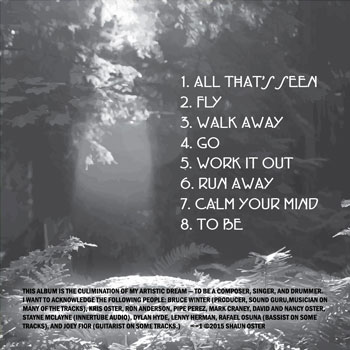 Recently releasing his first album, "Infinity Equals One", Shaun has also completed the world's first VR album (virtual reality) for Oculus Rift, allowing you to explore a world of visual stimulation while listening to his music. You can find this at the Gear VR store available as a free download. Upcoming versions will include live streaming concerts. Shaun plays a jazz drumset live weekly.
Reviewing Doublehead's VR creating capabilities is currently out of our spectrum, what we're really interested in, is the music. So totally naked and deprived of all its other stimulatory apparatus, just what does "Infinity Equals One" sound like?
Shaun effortlessly blends jazz, pop, and rock music with stunningly brilliant lyrics to great effect. He is at his best when his complex melodic ideas are designed to slowly seep into your sub-conscious, and this eight track album offers plenty of opportunities for that to happen.
From the moment I listened to the opening track "All That's Seen", I knew this was a winner from Doublehead. I was at once drawn immediately into the warmth of his unique, tender and catchy style and incredible lyrical poetry. But it was only when I heard the second track, "Fly", that I realized this was more than a winner, this was pure musical genius.
Just surrender to the song's slow, juicy, tangy and sticky melody and rhythm, and allow yourself to be touched by the ken of Shaun's unique, mysterious ministrations to passion. "Walk Away" is dished up in a sensuous, summery falsetto, to savor under the palm fronds with a glass of Mango and Coconut milk.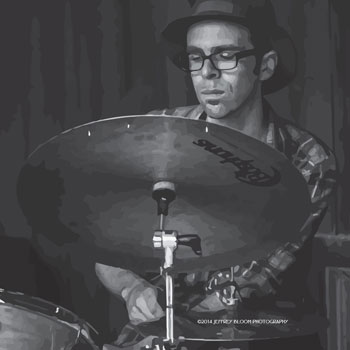 Shaun Oster AKA Doublehead possesses a unique gift for dreaming up eloquent literary imagery and combining it with the right musical accents to create languid and timeless sounds. With his signature laidback vocal style and cool songwriting, Shaun is more of a musician's musician than a mainstream music marauder.
Yet there is nothing inaccessible about this music, on the contrary it is an absolute easy listening experience…depending on what you want to hear, of course. How could you possibly not be captivated by the melodies on "Run Away" or "Work It Out"? Or not drown in the simmering and swirling atmospherics of "Calm Your Mind" and "To Be"?
But the absolute beauty of Doublehead's music is that there is more. There is always more. Lot's more. Layers and layers more. In a bed of clean, crisp and vibrant sounds, Shaun structures, and builds trippy, sophisticated sonic delights that will leave you wanting more after each listen. He doesn't as much play the instruments as paint with them.
It's like his holding paintbrushes in his hands rather than drumsticks, while swishing them across his musical canvas in a myriad of pastel colored strokes. Every nuance of sound on "Infinity Equals One" is captured with incredible clarity, detail and warmth. Highly recommended, no matter what your taste in music!
OFFICIAL LINKS: WEBSITE – OCULUS RIFT – ITUNES – BANDCAMP – TWITTER
Please follow and like us: