Chicago area emcee Fanetic was exposed to legends like Nas, Wu-tang, and Talib Kweli at an early age. He studied the greats and finds himself most confident when he talks about the real experiences that he goes through. Fanetic's new album "Keren's Legacy" is nostalgic, refreshing and a genuine effort that is most certainly not a recording to be slept on.
Moreover, it is a conscious hip-hop story that radiates a real sense of freedom and truth. The 14-track project finds Fanetic taking a step out of the bedroom and into streets to make a body of work guaranteed to leave listeners pleasantly surprised by what they hear.
This album surpasses its peers as one of his most exhaustive exertions of the year; seeing Fanetic candidly gives the middle finger to our current social status by creating a project that preaches about finding love, happiness and truth as opposed to unlocking the cheat code to better living that includes oppression, discrimination and violence.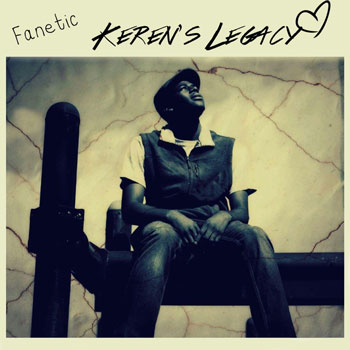 The music here is fully organic sounding and far-reaching, maybe even too far-reaching for the average hip-hop listener, as Fanetic explores the sonics of pianos, fiddles, guitars and horns. Making up one of the best beat collections heard on one single body of work. The features also do a great job of adding extra dynamics to each song.
Despite the obvious connection between the music used and the lyrical content of this particular album — which is a blatant refusal at becoming a slave to the artificial music industry — there is a dichotomy in the storytelling of each song. Fanetic frustrations for the present and future generation come at an important and relevant time, with his lyricism hitting home for most people.
Overall the album lives up to its expectations; a conscious open casket of invigorated raps over above par production. "Keren's Legacy" should be the project that sees Fanetic hit a myriad of expectations required for most to call it a classic – the message is heard loud and clear.
Conveying a sort of confidence about his work, and his certainty as to whether something 'is going to work or not', he succeeds in producing a body of work that he himself can take pride in. Fanetic's perseverance in putting together an album on self-belief and optimism will no doubt pay off.
Each song includes a thematic preamble which sets the tone for what's about to come. This definitely adds electricity and immediacy to the proceedings. Though there are enough styles on this album to satisfy a wide range of tastes, essential listening include, "On My Way (Feat. Paul Blue)", "Give Me A Job (Feat. Lotus)", "Mothers", "Ouvi (Feat. Oracle)", "In The End (Feat. Me'chelle Renee)", "Declaration Of Independence Pt. II", "Move (Feat. Syren & Onu)" and "Voices (Feat. Chai Tulani & Noel Price)". Overall, I have to say that this is a very solid effort by Fanetic as he sounds true to his DNA all the way through!
OFFICIAL LINKS: BANDCAMP – TWITTER – INSTAGRAM
Please follow and like us: