"Mixed Emotions" by *D~Nice* is an album defined by its good taste. The effort is layered and detailed, with a sound that is lush and exquisite, like an elaborately decorated mansion. It is at its best when it carries on that tradition of richness of sound as a virtue in and of itself. The productions are all satisfyingly fattened up, like they just gorged on a Thanksgiving meal. Songs like "May Be You," which foregrounds a melody that blurs the line between the sound of a strummed guitar and the sound of a tambourine moaning in unison, and "Kinda Sorta Guy," which evokes the pleasurable warmth of a high, feel generous and comforting, with catchy songwriting to boot.
"Rainin" breathes life into the Snap & B sound with a burbling bass and a playful piano line that reminds us that *D~Nice's* productions offer more than just their simplicity. But It's on songs like "Another Day" and "No Love" where *D~Nice* is at his most vital, as an artist situated firmly in the contemporary mainstream but whose music feels like the work of a dedicated classicist. When "Mixed Emotions" shades more toward that contemporary mainstream, it flatters *D~Nice's* artistry.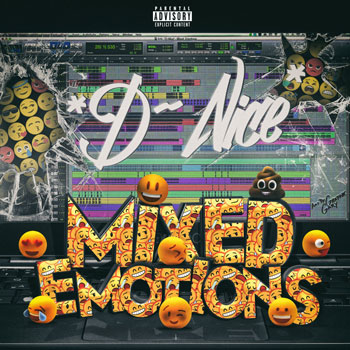 *D~Nice* spends the album singing about what he knows most intimately, which is his intimacy ("Kinda Sorta Guy"), his grind ( "My Time"), his relationships ("No Love") and his faith ("Hold On"). Versatility is perhaps *D~Nice's* greatest strength, aside from an abundance of talent—not only as a singer but also as a songwriter, producer, and rapper.
He can bounce between soulful ballads, sexy jams, club bangers and worship rhymes with ease, comfortably owning each, and with his sun-soaked vocals always present. Another thing that is always present in the Florida native's music is substance.
Although rap and R&B libertines come a dime a dozen these days, *D~Nice* stands out with his economic approach to songwriting. It helps that he's a gifted vocalist and rapper, one who can knit those abilities into a definitive artistic persona.
For this 15 track excursion, the Ocala melodist found a balance between being a lascivious rap-singer and a posh producer with a profuse amount of skills whether behind the mic or beat machine. With "Mixed Emotions", *D~Nice* carves his niche as a vocalist who knows how to perfectly tread the thinning line between rap and R&B.
Following the example of the album's title, *D~Nice* is a mixed-bag of tricks. He can swing between genres and soundscapes with his voice and rhythm effortlessly. His credentials stretch far beyond that of just an R&B singer or rapper, while his music provides a swathe of sounds.
So, all in all, *D~Nice* delivers a lusciously layered release, with more depth than we thought could be drawn out of the rap and R&B sound. Carefully tied together with a bow of potential hits and the messages he wants to share with the world.
OFFICIAL LINKS: ► TWITTER ► INSTAGRAM ► FACEBOOK ► BANDCAMP ► DATPIFF ► YOUTUBE
Please follow and like us: