Downtempo as a genre is nigh unequivocally serene and beautiful, but can rely so heavily on repetition that it approaches dullness. Not the case here – there's so much diversity in texture, mood, tempo that "Cryptic Dream" is a single by Caellus & Hidden Tigress feels like just a journey across varying wildernesses, from tepid jungles to icy tundras. The track is propellant and rich, spliced with call-and-response harmonies, a slow banging beat, and a sensuous spoken-word whisper. The track features American vocalist Hidden Tigress, who delivers an almost spirit-healing form of singing. It's a stirring inclusion, a transcendental collaboration that, like Caellus' other efforts in conjunction with other artists. This is easily one of the better more eclectic songs in his catalog.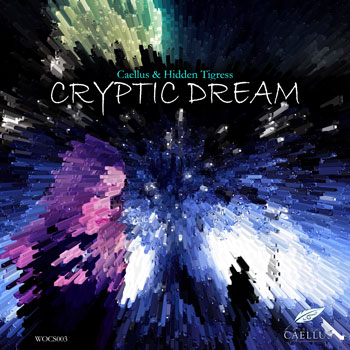 The sound as sensual as it is intoxicating and cinematic. This is clearly not a track designed with a particular listening environment – or listener – in mind. It's adaptable. There's no "right", and definitely no "wrong", way to experience this song.
The only imperative is to experience it. Crisp, precise and sophisticated, "Cryptic Dream" by Caellus & Hidden Tigress is the sound of someone who has mastered his craft. Caellus' maturation and experimentation has led to the creation of releases that were hailed as his magnum opus in the not too distant past. And I'm specifically talking about the epic "Genesis".
Here on "Cryptic Dream" he is just expanding and manipulating his horizons. Already fully established in the electronic musical firmament, Caellus always seems to have his sights set on greater things. But he goes about this work in a relatively humble way, letting his music do the talking.
He has so far achieved that rare balance of making music that calms the head, but ends up moving the soul and stirring the mind simultaneously. So how does "Cryptic Dream" develop this process?
For a start the familiar Caellus mood-inducing soundscaping is still there. His use of sounds and effects continues to flourish, giving a living, breathing center to his music. And that's what "Cryptic Dream" does. It lives and breathes, enhanced by the sultry stimulating whispering, courtesy of Hidden Tigress.
Overall, "Cryptic Dream" by Caellus & Hidden Tigress represents another step forward in the producer's musical development, keeping what was already strong in his music but adding more color and depth. He continues to make music for the mind and the soul. In short, to experience his music is to enjoy an all-encompassing physical and mental boost.
OFFICIAL LINKS: ► TWITTER ► FACEBOOK ► SOUNDCLOUD ► ITUNES
Please follow and like us: