Hardly a household name yet, Cut is a single-making machine at his peak, cranking out instantly chant-able bangers with wall-to-wall sizzling one-liners, like the tweaked-out damn-near-apocalyptic club thumper "Why You Hatin On Me". The short, dazzling verses – exploding onto our ears like a caged beast unleashed, chewing up all around him, and rushing off without having to deal with the fall out.
Such a style is hard to maintain over a lengthy time, but with his indomitable presence and personality Cut is running with it now. Cut seems more interested in calling out his doubters than having fun with his fans this time around. This feels more like Cut is actually addressing his own personal doubts, and how they may affect his judgment. He throws everything he has into loading the chorus with his trademark witticisms, and there are a few bars in there that are real pearlers.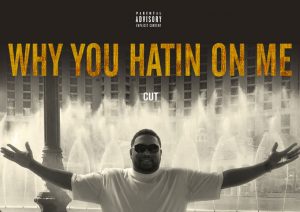 This is a track that proves when the mood is right, Cut is capable of bashing out the hits. This time around my only reservation would be the beat production. No doubt it's a great beat, but the sonics are a little on the noisy and distorted side which may grate some ears.
Ever since I've been listening to Cut, he has kicked off his projects with his fast and furious introductions laid over a menacing production. "Why You Hatin On Me" upholds that tradition. Never one-dimensional, Cut balances personal, comical, lyrical, and inspirational raps on his diverse projects, which validates claims of him being an attention grabbing MC.
The momentum continues here where Cut uses his steady yet aggressive flow to chin-check haters. Behind the ego and materialism that Cut may keep up his sleeve, he manages to unleash a gripping track. "Why You Hatin On Me" is the perfect tune to play on a Saturday while cruising through the city with nowhere to go. Cut never fails to deliver on every release.
MORE ABOUT: Cut is an artist from New Orleans who grew up in the St. Bernard Housing Project suffering from poverty, drugs and violence. In 2007 Cut released his debut album,"Mother Nature", with OneThang, his fellow label mate at the time. The album sold over 60,000 copies on the black market. Cut who has worked with artists such Snoop Dogg , Lil Boosie , Teflon , and many more, has released 4 mixtapes since his debut release.
OFFICIAL LINKS: REVERBNATION – FACEBOOK – TWITTER
Please follow and like us: