North Carolina rapper Cellus.Papi who thrilled us a few months ago with his "Figuring Less" project, launches his 2021 career campaign with a brand new 18 track project, entitled "Mind On Benjis 2". Marcellus Major, artistically known as CELLUS.PAPI is an indie artist and CEO of his own label known as Strictly Business Entertainment, which manages artists worldwide.  This time, as the artist, CELLUS.PAPI comes at us with a new perspective and technique. All songs contained within this project were recorded on an iPhone 11, certifying once again that there are no technical limits to stop any creative from making an artistic statement to the world today.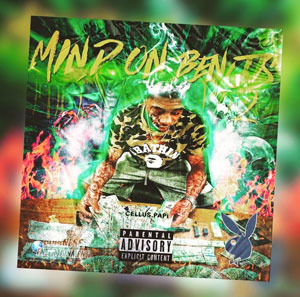 Almost immediately, with "Figuring Less", CELLUS.PAPI proves that "Mind On Benjis 2" is an open invitation to be entertained. When those initial rhymes ring out, they inject a steady stream of endorphins through your headphones. It's true that making an entertaining album may not be a singular feat, exclusive to CELLUS.PAPI, but creating one with this level of precision and individuality is.
As usual, CELLUS.PAPI's delivery is seamless, his recognizable, gravelly tone, grinding against the booming production. There are very few, if any dull moments on the album, largely due to the vast distinctions between each of the beats and the rapper's deliveries. From "Accolades", to "Draw Down", and "Chrome Hearts" Interlude to "Body Bagyy66", the album quickly locks you into its hypnotic momentum.
Unlike many other feature-heavy releases this year, CELLUS.PAPI doesn't rely on the presence of others to hold down each song; his performances actually stand alone, bar 2 tracks where he is joined by LorrJanky.
CELLUS.PAPI undoubtedly controls and dominates each of the 18 tracks, radiating an almost unstoppable energy. This captivating momentum continues on "SB the Label" ft. LorrJanky, "Take Yo Soul & Money", "Missing Screws" and "Double Shotty", which brings us to the halfway mark.
Thus far, almost all of the tracks could stand alone as a strong demonstration of what CELLUS.PAPI does best, but they also work together to create a cohesive project. These songs also prove that everything which other artists seem to be struggling with comes easily to CELLUS.PAPI.
He flaunts his ability to create an album on an iPhone 11 that succeeds and also produces potential radio-sounding hits. He keeps each song interesting, actually managing to maintain listeners' attention for the entire runtime.
It would be easy to say CELLUS.PAPI makes trap music, given that his beats often fit within that sphere, but to do so would be to discount the incredible things he does with his songs. Move between "Trap Jumpin" ft. LorrJanky and "Slide in Margiela", or "Perk30 (Freaky 4 Weekend)" and "Alone (Idek)" to witness how he blends his artistic ingredients differently, to conjure up a variety of stylistic rap flavors. CELLUS.PAPI shifts from twisting, freeform melody into nimble staccato syllables, almost effortlessly.
By the time you ride through the groove of the tracks, "Thoughts" and "Throwing You Off", it is clear that CELLUS.PAPI is rapping with a masterful sense of song-craft, over the richest beats, while he turns these songs into hypnotic mantras that will stick in your ear.
CELLUS.PAPI's refined and heightened attention to detail makes for a thoroughly pleasurable album, which leads to the uncovering of some genuinely new territory. Moreover, you'll keep forgetting this stuff is recorded on an iPhone.
OFFICIAL LINKS: INSTAGRAM – APPLE MUSIC – SPINRILLA – SPOTIFY
Please follow and like us: