Brenni PE$O is style. He enters the industry with a confidence that is hard to ignore. He has the approach of someone that has the mind of a trendsetter, not a follower. Like the new generation of artists Brenni connects directly with fans. People will gravitate toward his swagger and found inspiration in his music, making him a popular 22-year-old in an industry. He can be seen in a positive light, as he is a more than good rapper packaged in an impressive style.
Listening to his debut 6 track EP, entitled "On My Mind"  you can hear that Brenni PE$O is capable of making hits, he can be entertaining, he even shows flashes of greatness, and his skills are right up there close to the presence of the elite.
He is constantly changing his style, he can be found rapping viciously fast. He can add depth to his songwriting by equipping great rhymes on every song, and even upgrade his production from track to track.
When I listen to tracks like "On My Mind (Prod. Tantu)", "Control Of Me (Prod. Rioretti)", "100 Racks (Prod. Dayvi Jae)" and "She Down ft. Cheikh (Prod. Vantrill)", I can hear the effort, the passion, the progression, and I'm compelled to revisit these tracks, again and again.
The production on the EP is outstanding, with the various Producers delivering amazing tracks for Brenni to work over, and work he does. As with most debut albums, this is a platform for Brenni PE$O to display his lyrical dexterity and musicality.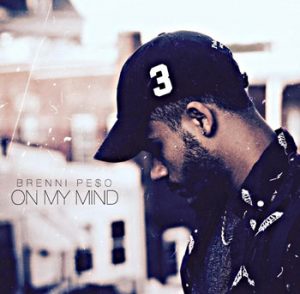 And in many ways, "On My Mind" is everything you could want from a Hip hop EP. The tracks are essentially flawless. Brenni displays great lyrical skill. "Work ft. Swish DaGawd (Prod. Dayvi Jae)" and "Control Of Me (Prod. Rioretti)" is banging, "100 Racks (Prod. Dayvi Jae)" is a great slow jam, and "Right Up (Prod. Ill Instrumentals)" is warm and introspective.
All-round "On My Mind" is a great EP, and with a couple more tracks it could have been a classic. It has all the ingredients; a capable artist, excellent production, a clear theme and direction, and the potential for multiple hits.
This is the EP that is meant to propel Brenni into the upper echelon of underground rap.  "On My Mind" greatly documents Brenni PE$O's first major chapter in developing his own artistry. Certainly, if he continues on this path he'll be moving out from 'out of his mind' and into an actual hall of fame in no time!
OFFICIAL LINKS: SOUNDCLOUD – INSTAGRAM – TWITTER 
Please follow and like us: