Malachi Grant whose name means 'my messenger' is a hip hop artist with depth. Walking the border of story- telling and feel good music. His content range is an open canvas pulling from his life experiences delivered with a stylishly-fresh sound, unique to Malachi. Citing a wide array of musical influences such as LL Cool J, Big L, Rakim, Biggie, Mase, Tupac and Nas, Malachi's presents positive and thought provoking flows that make you bop your head with metaphors and punch lines that surprise. Over the years his talents have afforded him opportunities to perform on stages alongside artist like Maino, Fred the Godson, Mysonne, Joel Ortiz, and Memphis Bleek to name a few.  Recorded and mixed by Big Yount of Tha Noize, his latest release, On My Way contains 7 songs as Malachi believes the number 7 represents completeness. On My Way is a message of wholeness, representing the ability to overcome obstacles and realize success in our endeavors.  Malachi uses On My Way as a vessel to translate his thought process.
How long have you been in the music business and how did you get started in the first place?
Malachi Grant: I've been in the music business for over 10 years now.  I started running a management company for artist.  I've always been into music as a kid, playing instruments and writing songs.
What do you think separates you from the massive crowd of artists emerging right now?
Malachi Grant: My music is lyrically and sonically message based. It's autobiographical and relatable.  Combining these attributes with infectious hooks, melodies and wordplay allows me to deliver my story unique from other artist on the scene.
When did you decide to start work on the album "On My Way" and how long did it take to finish?
Malachi Grant: I started working on the topics conceptually of I wanted to cover directly after my last album.  But I didn't begin recording until last year. It took about 2 months of recording and different mixes to complete the album.
Why the title "On My Way"? Tell us something about the concept behind the recording
Malachi Grant: "On My Way" is a concept that I believe ties us, as people together.  We all have aspirations and goals that we work towards throughout life.  On My Way is a message of wholeness representing the ability to overcome obstacles and realize success in our endeavors.  That is also the significance of the number 7, and the reason this album has 7 songs. Success is a destination that only the person on that journey can define.  I am giving the breakdown of my process and perspective on the sequence to achieve success.  The story takes the listener through my loss, growth and accomplishments of my journey.
Is it just you working on this album, or are there any other people behind the scenes that you'd like to mention?
Malachi Grant: Just me and Big Yount.
Did you produce the beats and write the lyrics on the songs or did you collaborate with outside sources in any of these cases?
Malachi Grant: "On My Way" was a two man show.  Big Yount made the beats and I wrote the songs and laid the vocals.
Technically,

which of the songs on the album do you think came out best, and just as you intended before recording them?
Malachi Grant:  Honestly, all of the songs came out either the way I intended or better.  I was very precise I recorded 8 records. One record was released on its own, the remaining 7, I sequenced to create "On My Way"
Have you released as single from the collection yet? And if not, is this something you will be doing?
Malachi Grant: I have not released a single.  It is something I intend to do in the near future but I wanted the entire project to be hear front to back to deliver the overall message.
Is there any one particular track that holds a bigger place in your heart than the others, and why?
Malachi Grant: 'I'll be Sure' is a song speaking to my insecurities, loss, resilience and commitment to others. The spoken word piece really brings out my struggle to realize my dreams and my unwavering commitment to reach them.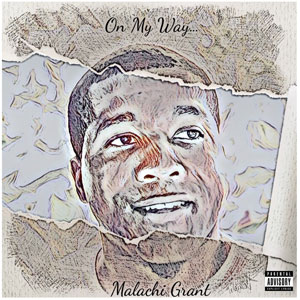 Which was technically the most difficult song of the bunch to record and capture just the way you wanted it?
Malachi Grant: I don't believe any of them were difficult to record.  But it took me 3 weeks to write "Stay up".  I think I wrote 15 different hooks and 25 verses before I wrote what you hear now.  Then I went in the studio and laid that down.  I wanted to make sure I didn't waste any words speaking to the people.
Listening to the songs now. Do you ever get the feeling to want to go back and do something differently? Or do you think they came out just as you wanted, and you wouldn't change anything about them anymore?
Malachi Grant: With this project I have no thought of doing anything to adjust the songs.  The songs came out the way I wanted.  The only thing left is to see how the music effects people.
For anyone who has not yet heard "On My Way", which keywords would you use to describe the album to them?
Malachi Grant: Growth, inspiration, loss, achievement, secure, Suckafree.
Will you be working on any videos to promote the songs on the album?
Malachi Grant: Yes, the videos will coincide with the single releases.  I am working on some concepts that best illustrate the messaging of the music.
Would you regard "On My Way" as your best work yet? And where do you feel you improved most from your previous work?
Malachi Grant: I would say "On My Way" is my best work so far.  Because of the connection between the listener's and the music.
What would you consider a successful, proud or high point in your career so far?
Malachi Grant: This album is a high point.  Music is multi-leveled, you digest the music surface level of within the layers.  Regardless it connects with the same messaging.
Which aspect of being an independent artist and the music making process excites you most and which aspect discourages you most?
Malachi Grant: I enjoy being able to control every aspect of my music.  The amount of information I've learning about the business various recording processes, etc. have been great.  Nothing is discouraging to me about being independent to me.
Do you consider Internet and all the social media websites as fundamental in building a career in music today, and what is your personal relationship with the new technology at hand?
Malachi Grant: The internet and social media plays a fundamental role in building a career.  I like to leverage technology to get me in front of people that would likely appreciate my music and build with that community.  You just have to make sure you're doing more than just social media.  There's nothing like engaging with a community that supports your craft in person.  And I believe that aspect goes even further for those supporters as well.
Do you prefer working and creating in a studio environment, or performing live in front of an audience?
Malachi Grant: I don't prefer one over the other.  Both are 'Good Money'  "we believe when we conceive, reliever when me achieve"  That line holds true for me the feeling of creating is an amazing feeling pushing you to deliver on your belief through writing and recording the music.  The same holds true when you perform.  Your now creating a performance at gives the same feeling from writing and recording the song.  The only difference is your performance can make the audience believe through more than just your recording.
If any, which artists do you currently respect in the game, and are listening to right now?
Malachi Grant: I respect the lyricist and the songwriters.  The most respect goes to the songwriters that are lyrical.
What's next on the upcoming agenda for Malachi Grant in 2018?
Malachi Grant: I will continue to push 'On My Way' to audiences and I am in the studio working on my follow up album.
OFFICIAL LINKS: WEBSITE – INSTAGRAM – FACEBOOK – TWITTER – GENIUS
Please follow and like us: