Bri Berlay is the princess of the Lower East Side. A true performer with the style and brass required for stardom, she is a high-fashion hood-rat from the dirty downtown streets of New York City. Berlay is a self-made indie artist to the core, running her show and maintaining creative control. Her sound mixes trap, ghetto house, and breakbeat influences and her brand is exclusive and high-end. She rolls in with her signature two braids and cornrows, perfect nails, and white gold everywhere. She carries the vibe of someone on the verge of massive success.
How long have you been in the music business and how did you get started in the first place?



Bri Berlay: I have always been an entertainer. For as long as I can remember I have had a need to perform and a love for music. I get chills every time I hear a crazy drop, or some funky hard shit. I'd say my career started in the music business started when I was in kindergarten, choreographing routines with other girls on the block.
Who were your first and strongest musical influences that you can remember?



Bri Berlay: I like this question. I have to say the spice girls and I'm not embarrassed.  I went through a phase in an elementary age and even know it didn't last long they already had me convinced I was a superstar superhero on a mission to spread girl power. Now that I think of it, I also really idolized Mary-Kate and Ashley and Disney.
Which artists are you currently listening to or inspired by?



Bri Berlay: TT The Artist, Dai Burger, Leikeli47
What do you feel are the key elements people should be getting out of your music?



Bri Berlay: I make party music. Bottom line. I want everyone listening to feel confident and lit.  I love my life and I am very self-confident.  I believe anything is possible and friendships are most important. Do what you love doing and do it every day. Wake up every day and have as much fun as possible. Carpe Diem. Sieze the Day. Wake up brassy, carpe diem. —nobody's stopping you.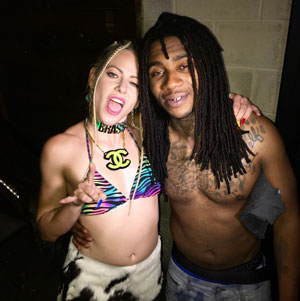 What do you think separates you from the crowd of urban music artists emerging right now?



Bri Berlay: I am VERY different from most urban artists. First of all, am I an urban artist? …-Absofuckinlutely.  Secondly, am I a gangster rapper? …I'd love to say so, but no, that's not the type of music I make. By definition "urban" means from "from the city,'' and Bri Berlay was made in the Lower East Side, New York. I was a struggling artist, I lived homeless in New York and the city's nightlife became my real life. It's how I survived.  So, I think I'm different because I came up from the heart of the city with drive and determination.
Do you at any time think you're at a disadvantage, or maybe even discriminated against as a female artist in what is commonly thought of as a male dominated genre?



Bri Berlay: I see this question and topic come up whenever an articles written about a poppin female. The fact that I was born a female has no advantage or disadvantage on my success. I sound like me, brassy.  My music is genderless, guys, girls, mermaids whoever can rap my lyrics with meaning. Being born a female has no advantages or disadvantages on an individual's success in the business. I'm a millennial we are smart, creative and capable of anything. We do not see gender as a threat. We can freely be who we wanna be.
Are your lyrics predominantly based on real events and personal experiences, or are they drawn from your creative storytelling skills?



Bri Berlay: Both. Talk about it be about it.
What would you consider a successful, proud or high point in your career so far?



Bri Berlay: Touring this year with my drummer, Calhoun. Over the past few months, Calhoun, DJ Girlbot and I opened for Kash Doll, Cupcakke, Kreayshawn and Riff Raff Four Loko Neon Black Tour. We played the Austin PRIDE Festival for the first time and that was crazy. We're definitely going back next year.
What has been the most difficult thing you've had to endure in your life or music career so far?



Bri Berlay:  This question is hard, life is easy. Every time I struggle I get stronger and wiser so really every obstacle is a blessing.
What key ingredients do you always try and infuse into your songs?



Bri Berlay: Brassy, Brassy and Brassy. You gotta not try and trust yourself.
Do you also produce the beats and write the lyrics on your songs or do you collaborate with outside sources in any of these cases?
Bri Berlay: I write my lyrics and collaborate with producers and beatmakers. The beat to my latest release, Party By Myself was made by So Drove who also did my songs 'Blessings' and 'Big Bank ft. TT The Artist.'
Which aspect of being an independent artist and the music making process excites you most and which aspect discourages you most?



Bri Berlay: The greatest gift an artist can have is freedom and creative control. As an independent artist I have full control over the songs I want to write, who I collaborate with and the total aesthetic of everything I release. Nothing is discouraging about being an independent artist. You have to do it all and realize you can't do it all, to be a boss.
If you had the chance to work with any internationally recognized and successful producer or artist, who would that choice fall on right now?



Bri Berlay: RZA. RZA is a visionary and an orchestrator. I am his Jedi.
If you had the opportunity to change one thing about how the music business works right now, what would that be?



Bri Berlay: I actually love it. And I love where we are at with music. We are so lucky we live in an age where music is so easily accessible. I would love to change nation-wide radio to good music ONLY.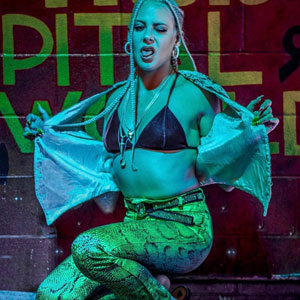 If someone has never heard your music, which keywords would you personally use to describe your overall sound and style?
Bri Berlay: brassy, raunchy, up-beat, very 'do my thing'
Do you consider Internet and all the social media websites as fundamental in building a career in music today, and what is your personal relationship with the new technology at hand?



Bri Berlay:  It absolutely is. I embrace social media. I love being able to directly connect with my fans and share my music all over world.
Tell us something about your latest release and where fans can find it.



Bri Berlay:  My last release is called "Party By Myself," and you can hear it on Spotify, iTunes, Google Play, all that. It's a party anthem about being lit. You hear all these songs about being in the club with the crew, but this is the anthem about not needing anybody but yourself to have a good time. Tune in to Spotify here,
https://open.spotify.com/artist/6FM3MQNRkm9IY6Q0umRbpG?si=L1uBU9dhRj6TrnzKi8KbXQ
What is your relationship with visual media? Do you think videos are important for your music? Do you have a video you would recommend fans checkout and are you busy working on something new for them?



Bri Berlay: When I'm writing a song, I'm also seeing a visual. I get real hype when coming up with new ideas. I have directed or co-directed every one of my videos. I write the treatments, concepts, scripts, cast, style and manage everyone on set. I do it all and that's why my art makes sense. You can see all my official videos on my YouTube Channel, tell your friends and subscribe if you dig the brassy movement.
https://www.youtube.com/watch?v=NmI9nZ2lwU4&list=PLIdhYDTEvSBSN4fVajwIKfXASshZmz_li&index=8
Do you prefer working and creating in a studio environment, or performing live and dominating an audience?



Bri Berlay:  Those are my two favorite things! There is nothing like the feeling of performing in front of a live audience. I come from theatre; even though the show may be rehearsed it's still live so anything can happen. I interact with fans during my live shows, it makes every show unique and personal.
What's next on the upcoming agenda for Bri Berlay?
Bri Berlay: I'll be performing at A3C Festival in Atlanta, and with Cash Cash in Austin.  Expect more music and videos before the year is over!
OFFICIAL LINKS: WEBSITE – TWITTER – FACEBOOK – INSTAGRAM – YOUTUBE – GENIUS – SPOTIFY – SOUNDCLOUD
Publicist: Russell Rogers
Email: Russell@BobbyDigitalPR.com
Media Inquiries:
info@briberlay.com
Please follow and like us: