Oshun Mi is a talented artist with a fondness for Afro-pop, Soul and R&B. Hailing from Nigeria, but currently based in LA, California, Oshun manages to combine her stunning melodies with infectious grooves and great beats, in order to create an appealing, yet energetic and edgy sound. Oshun's releases are a great example of her talent, marking a significant step forward for her progress, due to her inspirational lyrics, powerful roots and strong cultural ties to her ancestral land. Oshun's music has often been compared to the work of artists as diverse as IBEYI, Nneka or Wizkid, just to mention a few.
When and how did you get started performing and recording music seriously?
OSHUN MI: Recording music has always been a medium I saw fit to express myself but was never really serious about making a career out of it. It wasn't until I had a significant change in my life after I hit my lowest point that I decided to take music more seriously and create art with music that spring from my soul because music helped me through those trying times. I long for my music to inspire people the way it inspires me.
Who were your first and strongest musical influences that you can remember?
OSHUN MI: Asa, Onyeka Onwenu, Bruno Mars and Beyonce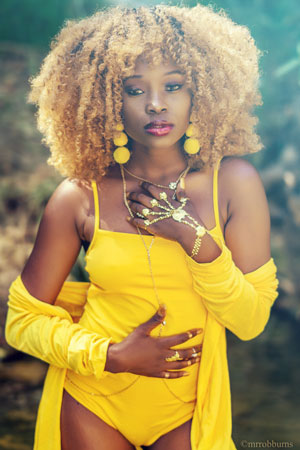 Which artists do you currently admire and are listening to now?
OSHUN MI: Billy Elish, Chloe x Halle, Oh Wonder, Vanessa Mdee and Alina Baraz
What do you feel are the key elements you want people to get out of your music?
OSHUN MI: Inspiration, spiritual awakening and pleasure.
What do you think separates you from the crowd of new female artists emerging right now?
OSHUN MI: Change they say is a constant thing. But my brand stays the same. It will never change.
Do you currently have a preferred song in your catalog, and why is it special to you?
OSHUN MI: If you let me by Sinead Harnett. It's soulful yet sexy…really sexy!
Have you had any formal training or are you self-taught?
OSHUN MI: I've had a couple training and I'm constantly learning from artists I admire.
What would you consider a successful or high point in your career so far?
OSHUN MI: When I know I've inspired and touched millions of souls.
What has been the most difficult thing you've had to endure in your life or music so far?
OSHUN MI: Not getting as much support from people you'd expect to get it from. Regardless, I consider myself my biggest cheerleader in the end.
What key ingredients do you always try and infuse into your songs, regardless of style or tempo?
OSHUN MI: My roots.
Do you collaborate with outside sources, or do you handle both lyrics and production work on your songs?
OSHUN MI: I always love to collaborate from time to time because two heads are better than one and others have experiences I don't. But I also handle most of my songs myself.
Which aspect of being an independent artist and the music making process excites you most and which aspect discourages you most?
OSHUN MI: The fact that I'm in charge and can take control however I please and go in whatever direction my heart yearns. But then again, it could be really challenging being an independent artist because music making in general is costly.
Do you have a management team behind you or do you control and handle everything by yourself?
OSHUN MI: I handle everything myself when it comes to music. I'm currently with Thirty three management but they manage my acting career.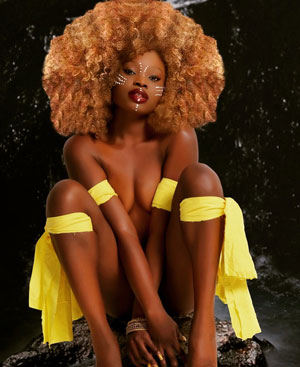 If you had the opportunity to change one thing about how the music business works right now, what would that be?
OSHUN MI: I don't know really. So far, there's been so many improvements that favors independent artists.
If someone has never heard your music, which keywords would you personally use to describe your overall sound and style?
OSHUN MI: Afro pop, Alternative, electro pop.
Do you consider Internet and all the social media websites as fundamental in building a career in music today, and what is your personal relationship with the new technology at hand?
OSHUN MI: Yes absolutely. The internet is a great way to put yourself out there, showcase your work and brand. It's also a great way to connect with industry professionals. I'm currently speaking with an A&R executive I met on Instagram. My Instagram showcases my entire brand and it makes sense to my followers when they hear my music or watch my videos. My Instagram username is the same as my stage name Oshun Mi.
Tell us something about your latest release and where fans can find them.
OSHUN MI: I just released my new music video 'Take You'. The song has an Afrocentric pop tune to it and the video has a captivating storyline that centers on romance between two well-known Nigerian deities. It can be found on YouTube.
What is your relationship with visual media? Do you think videos are important for your music? Do you have a video you would recommend fans checkout?
OSHUN MI: Absolutely. The music is one thing but the visual, is everything. It gives your music a scene, a platform for people to see your story and what your song signify. It gives a very clear message.
If you were forced to choose only one, between receiving a Grammy award and having a Certified Platinum selling record? Which would you choose and why?
OSHUN MI: Grammy award. Because it's forever attached to your name. And it's shows you truly are a winner.
What's next on the upcoming agenda for OSHUN MI in 2018?
OSHUN MI: Greater things. More incredible music, captivating music videos and many more. The sky is my starting point.
OFFICIAL LINKS: SOUNDCLOUD – TWITTER – INSTAGRAM – YOUTUBE
Please follow and like us: