Having previously been signed to Sony/BMG with Carmen Gray, one of Finland's finest rock bands, Tom Tikka has formed The Impersonators, a two-man project born out their ashes and designed to cut out the politics and strife which come from the rock n' roll carnival of band life. Resolutely studio-based, The Impersonators channel the bejeweled power-pop of The Go-Betweens and the immediacy/worldliness of early R.E.M. to deliver timeless alt-pop melodies. Comprising Tom Tikka and lyricist Antti Autio, The Impersonators are just that: a duo which masquerades as a full band and does everything it can to defy convention – whether that being their insistence on avoiding touring or their songs, which home in on the warts-and-all gnarliness of love and real life.
In fact, if one were to find a common theme that runs through the group's entire catalog, it would probably be how life very seldom resembles or turns out like Disney fantasies. Despite their poignant lyrics, The Impersonators are still a joyous and sweet proposition, with their vocal harmonies and chiming chords harking back to such 60s pop majesties as The Beatles, The Byrds and The Beach Boys. Together with their secret weapon, producer Janne Saksa, The Impersonators craft their lyrics and melodies into retro-flavoured alternative pop/rock. While adding a modern twist to the final soundscape, their goal is to nurture and cultivate the creativity, spirit, and warmth that graced the pop records of yesteryears.
Can you tell us a bit about where you come from and how you got started?
The Impersonators: After Carmen Gray (the band my brother and I wrote a decade's worth of music for) disbanded, I was a free agent once again. This was in 2012. I knew I still had a few good songs in me, so it was very natural for me to begin looking for an outlet for them. I had a few projects that I dallied with. For some reason or another, none of them were really happening. It's hard to say why. The musicians I had playing with me were great. It wasn't' that. Perhaps, I was comparing them to Carmen Gray. This was obviously a bit of a mistake in retrospect. How could something that you just started ever compare to a well-oiled machine like Carmen Gray that had enjoyed quite a few radio hits and had the backing of a large label? It was all so very special. In fact, I still remember the day when the artist copies of the first Carmen Gray album came in the mail. I was holding a CD with Sony Music's logo on it and it was full of songs that had my name on them…my hands were shaking. It was such a proud moment for me.
Anyway, The Impersonators were sort of born on a cold October night in 2012, when Antti Autio, a guy I knew from college, emailed me a set of lyrics titled "Ghost Town Radio". He sent them to me out of the blue. I didn't even know he was writing lyrics. We were both music fanatics and always raving on about music when we got together but this was the first time I was introduced to the fact that Antti had a creative side to him. The reason why I say The Impersonators were 'sort of born that night' is because we didn't really become a band then. This was when Antti and I started writing together. It took us a few years to figure out what to do with all the songs we were coming up with. All this was happening while I was busy attempting to form a new rock band. But yeah, that's where it all started. Little did I know then that I would end up forming The Impersonators with Antti. I certainly never saw myself as part of a duo. Life's funny that way. You never really know what the future holds for you until it all unravels.
Who were your first and strongest musical influences that you can remember?
The Impersonators: The Beatles definitely and The Rolling Stones. Those were the two biggest influences. Also, The Byrds and The Beach Boys. That was the music my mom and dad played around the house when I was growing up. My own musical era was really the early nineties but the music that inspired me to become a musician and a songwriter was basically the pop/rock of the sixties. I can still remember it all like it was yesterday. My dad would come home from work on Fridays, he'd pour himself a stiff drink and that's when all these great albums by CCR, The Stones, The Beach Boys and what have you would come out. And that was it for me, I fell in love with music like that. It wasn't just rock'n'roll mind you. We'd listen to Dean Martin and Frank Sinatra on some Fridays and sometimes, my dad would go for some Latin American music. I remember very often listening to the soundtrack of Sound of Music with him. He wasn't really genre sensitive that way. Rather, he just loved music.
If I was to turn on your media player right now, which artists/songs would I be most likely to hear on your recently played list?
The Impersonators: I don't really do playlists. I listen to albums, from start to finish. That's how I approach music. And I actually still listen to CDs and LP records. I have four CD players, four sets of loudspeakers and four receivers at home: in the kitchen, in the library, in the living room and in my home studio. But to answer your question, the CDs I have in those four places right now are: Oceans Apart by The Go-Betweens, Breach by The Wallflowers, Help by The Beatles and Chinese Democracy by Guns N'Roses.
What do you feel are the key elements in your music that should resonate with listeners?
The Impersonators: I have always found this question very hard to answer. Music is so subjective. I've discovered that people like even the same music for very different reasons. Take me and Antti, for example. He, being a lyricist, was originally drawn to Gene Clark's music due to Clark's poetic approach to writing pop lyrics. I was drawn to Gene Clark because of his melodies and chord progressions. My point being that I could go on and on about how wonderful each and every aspect of The Impersonators' music is and give you my very biased and in a way, meaningless opinion about what the pull is in our songs but instead I'll just list a few things that I enjoy about our music.
To me the fact that our lyrics are inspired by real life is a strength. I mean each of our songs has a distinct story behind it. "Burning Blue" was written to console a friend who had lost his wife to cancer; "Broken Snow" was inspired by this nutty street vendor in Paris; "Sad Café" came about after I witnessed a lovers' quarrel in a coffee shop in London; "You Are The One" was written for my wife…the new single, "Cloud Nine" was inspired by a therapy session and so on.
I also like the way these tracks are produced. Janne Saksa is a wonderful record producer and the fact that we work in these four-month production cycles really enhances the quality of each and every track. I do also enjoy the melodies. My purpose has always been to write melodies that are very catchy but complex enough to be interesting at the same time. This is what I think. Who knows, maybe a lot of folks listening to us agree with these points.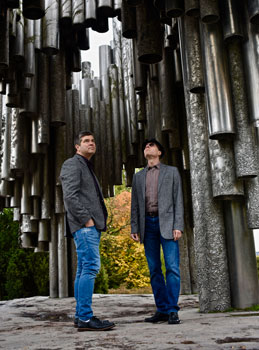 For most artists, originality is first preceded by a phase of learning and, often, emulating others. What was this like for you? How would you describe your own development as an artist and music maker, and the transition towards your own style?
The Impersonators: This is another very difficult question because I think that a lot of this progress is unconscious. I certainly didn't sit down in my teens and decide that it's time to begin the pastiche era of my songwriting. I think this is something that's easier to notice looking back on what you've done.
Actually, I'm getting into this question now. This is very interesting to me because I just went back and listened to some of the early demos Carmen Gray made. You can hear some things in there that became trademarks of the group's sound but for the most part, these demos are a mixed bag. Some songs sound like Hanoi Rocks, some sound like Guns N'Roses, some like Creed, some like Aerosmith, etc. Even the first album has a few pastiche moments. It wasn't until the third album Gates Of Loneliness that my brother and I had a crystal-clear vision of what a Carmen Gray song is and what it should sound like.
It was a bit like that with The Impersonators also, but the thing that made it different was that this time around I made a conscious effort not to sound like Carmen Gray. I wanted The Impersonators to have their own definite sound. In fact, "Cloud Nine" is the first song that I wrote for our little duo that melody wise could have been a Carmen Gray track. Perhaps there will be more tracks in that vein. Who knows!
It's hard to explain what the transition to one's own style is like. To me it was realizing what I wanted to write about in terms of lyrics and what I wanted to do with my melodies. I still write songs that sound like other people by accident. I just don't release them anymore. I don't think you ever truly grow out of the pastiche phase. You just learn to recognize the ideas that don't really sound like you and instead of developing them further, you put your effort into the ones that have your own stamp on them.
What's your view on the role and function of music as political, cultural, spiritual, and/or social vehicles – and do you try and affront any of these themes in your work, or are you purely interested in music as an expression of technical artistry, personal narrative and entertainment?
The Impersonators: Well, I like "me music", so I suppose for me music and lyrics are an expression of personal narrative. That's part of who I am as an artist. I do however like it when pop/rock songs take a political stand and there has never been a conscious decision on my part to shy away from the aforementioned topics in any way. I guess I'm just too busy writing about what's happening to me that I don't really ever get to writing about what's happening in the world.
Another reason why I try to stay away from third-person stories or events (political events especially) on which I only have second-hand information is the danger of not knowing what you are actually talking about. Quite a few artists have made a career out of criticizing their governments and I suppose there's nothing wrong with that per se. However, I try not to do it because just like with my job, there's got to be a reality to what these folks are doing. I mean anybody who thinks it's easy to be Prime Minister, for instance, is just plain wrong. I'm sure when representatives make decisions at that level, their hands are tied in ways we cannot even imagine.
If I have a political opinion on something, I usually say it but I always try to remind those reading or listening that I'm a rock musician, not an expert in political sciences. Whatever I say should carry no professional weight unless it's about music. Perhaps that's why I'm a bit doubtful when it comes to writing songs that tackle topics outside my own realm.
Do you ever write a song with current musical trends, formulas or listener satisfaction in mind, or do you simply write focused on your own personal vision?
The Impersonators: Well, I do hope that whatever The Impersonators release ends up on radio rotation somewhere, so I usually search for melodies that are pleasing to the ear. In other words, I do write with listener satisfaction in mind. To me that's always been part of the game. Why write music nobody can relate to? Having said that, personal vision is just as important but I always attempt to check both boxes. Then again, I'm a sucker for great melodies, so in my case, I enjoy the listener satisfaction aspect of songwriting or whatever you want to call it very much. It's not really a sacrifice for me to approach songs like this. Quite the opposite actually, it's quite a thrill.
In terms of current trends, why bother? I aim for timelessness. You can't achieve that if your aim is to sound like the latest and the greatest hit parade. However, I do listen to that too. I have teenage kids, so there's no way for me to avoid the trendy hit singles or famous YouTubers. Anyway, although most of this music doesn't really appeal to me, I do think there are enough cool things happening in the red-hot music of the hour that it would be unwise not to take note of it. I do incorporate some of those things into my own writing but within limits. I'm an old hand and old hands don't usually play teenage music.
Could you describe your creative processes? How do you start, and go about shaping ideas into a completed song? Do you usually start with a tune, or a narrative in your head?
The Impersonators: It used to be that Antti emailed me a set of lyrics and I wrote a melody to them, then I recorded the track and it was done. Our process has changed quite a bit from those days. Nowadays, I might have a melody ready first; then I go ahead and edit Antti's lyrics a bit to make them fit. I also nearly always ask for my wife's help at some point or another during the writing process. She helps me out with riffs and middle-eights, the bits that I always have difficulties with. It's handy to be married to someone with musical talent if you are a songwriter.
Once the song is finished, I record all the parts and send the multitrack to our producer Janne Saksa, who then works his magic on it and adds things to the mix. I'm only protective of the lead vocals and the guitar parts. Whatever else Janne wants to rerecord or change, he has the go-ahead. Like myself, Janne is a multi-instrumentalist and a very talented one at that. With him, our songs are always in good hands, so I don't need to worry about anything. I also want The Impersonators to sound like a band and with two people playing and singing harmonies, that objective is much easier to reach.
What has been the most difficult thing you've had to endure in your career or life so far, and how did you overcome the event?
The Impersonators: In terms of my musical career, getting The Impersonators off the ground has been much more difficult than I ever predicted. To shape it into the professional act it is today has taken a lot blood, sweat and tears. Antti and I kid around about this very often. We had these thoughts about how hard it would be to get a small audience as an independent act. Turns out, it It was a hundred times harder.
Another challenge that was hard to overcome was being dropped by Sony/BMG after the second Carmen Gray album. It was so incredibly discouraging. Luckily, my brother and I were able to ignore this huge pratfall and wrote what became the group's biggest hit "Gates Of Loneliness". Before we even knew it, we were back on the radio and had Warner distributing our releases. That was bloody rewarding, I'll tell you that.
On the personal side, losing my dad to cancer was by far the hardest thing I've had to endure. Ours was always an incredibly close-knit family. I think during the fifty years my parents were married, my mom and dad spent twenty nights apart. We were always together. It was magical. There was so much love present at all times, so much warmth. My brother and I were very lucky that way. We had a great childhood. Obviously, my dad had a huge influence on me and my brother as people but also as musicians and songwriters. His passing left a huge void in my life that can never be filled.
Another extremely difficult period in my life was divorcing my first wife. It was heartbreaking and so incredibly sad. You know, when you divvy up everything, including your time with the kids. Whoever has been through a divorce will know exactly what I'm talking about. It takes a long time to recuperate from something like that.
What would you consider a successful, proud or significant point in your career so far?
The Impersonators: The fact that Carmen Gray was able to come back from being dropped by Sony/BMG and have this huge hit with "Gates Of Loneliness" is a very proud moment for me. Another moment like that was when "Burning Blue" rose to #7 on the Swedish iTunes charts. I've always been very proud of all the hits (big or small) I've had either with Carmen Gray or The Impersonators. It feels very good to have been able to touch people with your songs.
In terms of significant moments, I guess realizing after having been the driving force behind The Impersonators just how challenging being the leader of a rock band is. It's basically being the mediator between the label, management, PR agencies, sound engineers, producers, graphics guys, press, radio…and the list just continues. I might have criticized my brother's way to lead Carmen Gray every once in a while in the past. Turns out I was wrong. He was an excellent bandleader who was always able to keep everyone's best interest at heart. I call him every once in a while now and ask for advice.
Having called myself the leader of The Impersonators, I want to stress the fact that Antti really is the heart and soul of this duo. Without his unwavering faith in The Impersonators and him rooting me on constantly, not to mention clogging my inbox with new lyrics, I would have already handed in my resignation a long time ago.
If someone has never heard your music, which 5 keywords would you personally use to describe what you and your music is all about?
The Impersonators: Poetic, melodic, ambitious, warm and world-weary.
With social media having a heavy impact on our lives and the music business in general, how do you handle criticism, haters and/or naysayers in general? Is it something you pay attention to, or simply ignore?
The Impersonators: I think you should pay attention to all comments as long as they are somehow relevant to the music you're making. Having been in the business for quite a while, I've gotten my share of terrible reviews. I always tried to learn from all of them, good or bad. I was never under any illusion of greatness. Even now, I'm here to develop and grow as an artist. This means being open to advice and tolerant of negative feedback.
Social media stuff can be pretty ruthless I admit but everybody's entitled to an opinion. I never really give negative feedback to anyone. If I don't have anything positive to say, I usually keep my mouth shut. That's why it's hard for me to understand the need to tear somebody's work into shreds in front of the whole world but like I said, if someone feels the need to do that, then they certainly have the right to do it.
But to answer your question, I try to ignore comments that are mean but it's obviously very hard to do that successfully. They stay in the back of your mind for quite a while. Of course, it doesn't help that I am very sensitive.
Which aspects of being an independent artist excites you most and which aspects discourages you most?
The Impersonators: I'm not sure how independent we are anymore. When compared to what it's like recording for a huge label like Sony, then one could say we are very independent, but we do have a label, management and the PR folks that we work with. I suppose the difference is that instead of having a bunch of suits doing it for us, it's up to Antti and me to bring all these people together.
Having experienced both worlds, all I can say is that each has its own good and bad sides. It's very simple. If somebody pays for your record, they decide what happens to it; if you pay for it, you decide what happens. When I put it like that, most people say, "Let's be independent then." What I usually say to that is, "Good luck," and then I chuckle.
A few questions ago, I said that each and every job has a certain reality to it and music promotion is no exception. If an artist has zero experience in the music business and no contacts, it'll be next to impossible for him or her to achieve anything without the help of someone who can actually shake the ground. It's just the way it is. Also, if you have no achievements and you are no one special, why would people buy a baseball cap that has your name on it, when they could just as easily buy one that says "U2"?
In short, the good side of being independent is that you can have complete artistic freedom if you so choose; the bad side of it is that most likely no one will truly ever hear your music. Getting it across to a larger audience requires money, expertise and contacts that most young artists just do not have on their own.
Having said all of this, I do miss some of the quality control that came with folks having to go through record labels. Just because everyone can release an album these day doesn't mean everyone should.
If you had a choice to go on tour with any acclaimed international artist or band in the near future, who would you choose, and why?
The Impersonators: That's easy: Paul McCartney and Brian Wilson. To me these two men are the greatest geniuses in the history of pop/rock. I mean they don't call Wilson the Rachmaninoff of Pop for nothing. Just to be able to learn from them and talk to them, to meet them, would be a dream come true. These are the two individuals who more or less wrote the soundtrack to my life. I know each and every one of their tracks by heart and absolutely adore their music.
Could you tell us something about your latest project and what fans can expect to hear?
The Impersonators: The next Impersonators single is a song called "Rodeo". It's a bit more bad-ass than "Cloud Nine". This tune is easily one of my favorite moments in our recorded catalog. Actually, for once, we are a bit ahead of schedule. The track's all done and good to go but it won't come out until late August or early September. It'll be great to have a few extra months in which to turn this release around. I'm sure we'll miss a few deadlines regardless, we always do, but I'm hoping it'll be less stressful like this.
Do you have a personal favorite track amongst your compositions that has a specific backstory and/or message and meaning very special to you?
The Impersonators: My favorite Impersonators track is "Broken Snow". It's energetic and has a very cool Motown vibe to it and once again, Janne's treatment of the song is brilliant, very Phil Spectorish, which I love. It also has a great chorus and I really like my vocals on it.
"Broken Snow" was written in Paris, or the chorus was written in Paris when my wife and I were vacationing there five years ago. We were lining up to the Eiffel Tower and like everyone else in the line, we were approached by this shady-looking street vendor, who was trying to sell necklaces and earrings that looked like disfigured snowflakes. They were actually pretty cool looking but not a lot of people were buying them because the guy selling them was a little creepy. He kept asking everyone, "Is your broken heart kind?" and "is your heart out of time?", which are the phrases that now grace the chorus of "Broken Snow". I thought they sounded pretty cool. I also like this idea that once your heart has been broken one too many times, it's not kind anymore. Rather, it assumes the worst of people. That's how I interpreted the street vendor's questions anyway, and this was the inspiration behind the track.
Aside from music, the song holds a very special personal memory for me. My wife and I were still in that first phase of romantic love when everything is wonderful and perfect. Paris is a great city to be in then. She was pregnant with our first child and we were in a great place as a couple. I return to that memory very often. Those were very happy times indeed. I'm lucky to have so many good memories I guess. I treasure them.
Creative work in studio environment, or interaction with a live audience? Which of these two do you ultimately prefer and why?
The Impersonators: Although I've done my fair share of playing live, that's not what I am about, never have been. I do enjoy it when I do it but my heart has always been in crafting songs in the studio. It's hard to explain when I know so many artists have the opposite view. I suppose it comes down to whether you aspired to be an entertainer or a songwriter/producer when you were growing up, doesn't it? I emulated Brian Wilson, John Lennon and Paul McCartney. I love the control you have in the studio, the countless directions into which you can take a song.
Having said that, whenever I do play live and get to interact with a live audience, I come off that thinking I should play live more often. So I enjoy all that, no questions about it. It's just that I have such strong attraction to working in the studio that playing live is continuously put on the back burner. Of course, one has to bear in mind that The Impersonators is a studio project, a group of two songwriters rather than a group of four or five musicians. Playing live is a tad difficult for us. It's usually just me and my acoustic guitar. Now, if we became truly famous, we'd have to rethink our priorities, so never say never. However, until that happens, we'll remain mostly a studio act.
What's your favorite motto, phrase or piece of advice, you try to live or inspire yourself by?
The Impersonators: I have two. Abe Lincoln's: "And in the end, it's not the years in your life that count; it's the life in your years." And then there is John Lennon's, "Life is what happens to you when you are busy making other plans."
These are both very true and are great grains of wisdom. I try to remember both at all times. The lesson you can learn from them is clear. You can't always plan everything and more importantly, don't waste life, it'll come to an end at some point and when it does, it's better to have lived fifty happy years than two hundred half-assed and unsatisfactory years.
How essential do you think video is in relation to your music? Do you have a video you would suggest fans see, to get a better understanding of your craft?
The Impersonators:  I'd say that music videos are very important to us. We always try to make each of them special in a way that they reflect the song and the lyrics. "Circus" was shot in a real circus tent and "Cloud Nine", which was inspired by a therapy session, has a music video that's a mini-film depicting psychotherapy. So yeah, we do put quite a lot of time into planning these things. I think our fans would really enjoy both "Circus" and "Cloud Nine". They are by far our best music videos and I'm proud of both of them. My wife Elina did an outstanding job scripting them. She also filmed and directed "Circus". For "Cloud Nine" we had Tuomas Palola, who had made music videos for Carmen Gray back in the day, come in and film and edit the final product. He did a fantastic job. Check out the video, you'll like it.
What is the best piece of advice regarding the music business that you actually followed so far, and what is the advice you didn't follow, but now know for sure that you should have?
The Impersonators: This is a hard question to answer. I'll try. The best advice that I've ever been given was when an A & R man once told me, "Son, this is not a hundred meter race but rather a marathon." I was a bit depressed at the time because it seemed The Impersonators weren't going anywhere and I complained to him about it. Turns out, he was right. That's the wisdom I'd like to pass along. It's also the only thing that matters, that you keep at it for as long as you must to either find out you aren't going to make it or that you will. Quitting before that is senseless.
Another great piece of advice came from my dad who taught me to approach songwriting just like any job. He always said, "The one who waits for inspiration, doesn't finish enough songs to bury his competition." This is the reason why I still write one melody a day. Most of these melodies are not very good I'm afraid but if you write 365 per year, a few really good songs are bound to find you. I can't say that I've been able to bury my competition, nor can I say I want to, but I've written a few really good tracks following that piece of advice and this is what I'm going to keep doing until I croak. The advice I didn't follow was to not sign anything that hasn't been looked over by lawyers. I've learned my lesson.
OFFICIAL LINKS:
FACEBOOK: https://www.facebook.com/ImpersonatorsBand
TWITTER: https://twitter.com/1mpersonators
INSTAGRAM: https://www.instagram.com/1mpersonators_band
WEBPAGE: https://impersonatorsmusic.com
SPOTIFY: https://open.spotify.com/artist/43iP9Qdf52b0zuyBYKjgbl?si=1TVJZJr3Q8i4UsxolnOZmA
iMUSIC: https://music.apple.com/fi/artist/the-impersonators/1051324982
SOUNDCLOUD: https://m.soundcloud.com/the-impersonators
YOUTUBE: https://www.youtube.com/channel/UCNxEq8p5waRWe1Gp7DBAzCg
Please follow and like us: