Savannah Nider was born and raised in Pawnee City, Nebraska, a small town in the southeast corner of the state with about 900 people. She grew up passionate about family, sports, speech, and of course… music. At a young age, her big voice turned the heads of some prominent industry figures. At 15, Savannah was given the opportunity to work alongside Geno LeSage, Steve Cox, and Kenny Royster who were involved in the careers of Grammy award-winning artists including Collin Raye and many others.
Savannah lost her biggest fan, Grandma Linda, to pancreatic cancer shortly after launching her career. She made a promise to herself and her grandmother that music would not just be a dream, but a priority. She completed her college education in 2014, married the man of her dreams, and moved to Nashville in early 2019. Soon after her move, Savannah began to make musical connections that would launch her career. Joie Scott, a well-known songwriter in Nashville, influenced
Savannah's songwriting ability and co-wrote her first song "Until Always," which she performed at her own wedding. She was also introduced to Bryan Cole, a talented producer out of Pittsburgh, PA who took a special interest in Savannah's unique story, sound, and powerful voice. She recorded her latest EP, produced by Bryan Cole and Grammy Award winner Steve Marcantonio, in November of 2019 with her family and friends watching the magic outside the studio glass. This small-town girl with the big voice is making waves on the international scene, reaching #1 on the iTunes country singles chart in South Africa with "We Are Us." She feels nothing but humility, love, and support from her family, both here and gone, and will use music to make them proud.
Can you tell us a bit about where you come from and how you got started?
Savannah: I am from Pawnee City, NE. It is a small town of approximately 900 people. The way I started my journey with music is very interesting. My Grandpa knew an individual who had connections in the music industry. When I was 14 years old, I made a CD and this individual thought I was very talented at such a young age. My career bloomed from there.
Who were your first and strongest musical influences that you can remember?
Savannah: My strongest musical influences were Shania Twain and Celine Dion. My Mom always had these artists playing and they became my favorite artists ever since.
If I was to turn on your media player right now, which artists/songs would I be most likely to hear on your recently played list?
Savannah: Some of my favorite artists as of right now are Lady Gaga, Thomas Rhett, Lauren Daigle, and Brett Young.
What do you feel are the key elements in your music that should resonate with listeners?
Savannah: Emotion is key. When I sing, I want people to connect with what I am singing and how I am interpreting the message of the lyrics. I think emotion is one of the key elements when performing any song.
For most artists, originality is first preceded by a phase of learning and, often, emulating others. What was this like for you? How would you describe your own development as an artist and music maker, and the transition towards your own style?
Savannah: Everyone is his or her own artist. I feel that I am different from other artists because I am myself and I am proud of that. I am very real and I do not fake who I am as a person. I think my personality is very contagious and that is something that I want the world to see as I continue in the music industry.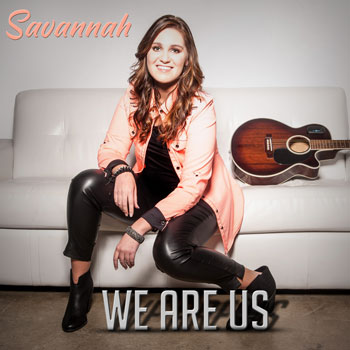 What's your view on the role and function of music as political, cultural, spiritual, and/or social vehicles – and do you try and affront any of these themes in your work, or are you purely interested in music as an expression of technical artistry, personal narrative and entertainment?
Savannah: You can make any music you want. The most important thing about music is that it is important that it suits who you are. It should reflect who you are as a person. People write about various aspects of the world. That is the beauty of music.
Do you ever write a song with current musical trends, formulas or listener satisfaction in mind, or do you simply write focused on your own personal vision?
Savannah: Songs are written in order to listen and learn from them. I write from personal experiences and bounce ideas off of current music trends. Listening to songs that are already available to the world allows artists to develop their own unique style of music.
Could you describe your creative processes? How do start, and go about shaping ideas into a completed song? Do you usually start with a tune, or a narrative in your head?
Savannah: First, I figure out what I want to write about. Then, I start to jot idea/lines down as I think of them. Sometimes I start with the music and other time I start with the words. I do not have a structured process and I think many writers could attest to that.
What has been the most difficult thing you've had to endure in your career or life so far, and how did you overcome the event?
Savannah: The most difficult decision I ever had to make was about moving to Nashville. I knew I wanted to pursue music but I had doubts about it because the music industry is extremely competitive. However, with the support of my friends and family, I took the leap of faith and moved to Nashville in March of 2019 and it was the best decision I have ever made.
What would you consider a successful, proud or significant point in your career so far?
Savannah: I actually have two. The first one was moving to Nashville. I had lived in Nebraska my whole life and it was extremely hard to leave my family. So, I consider that a proud moment in the fact that I finally did something for myself and followed my heart. Lastly, I completed a 3-song album in November of 2019. This was special to me because I was able to record the songs that I wanted and I finally felt like I was contributing to my success as an artist. It was such a good feeling to feel in control of my decisions on the songs, music, process, etc. I was very proud of myself for being confident throughout that process, as that was the first time I felt like I was truly in action as an artist.
If someone has never heard your music, which 5 keywords would you personally use to describe what you and your music is all about?
Savannah: The five words I would use is real, emotion, country, inspiring, and mature.
With social media having a heavy impact on our lives and the music business in general, how do you handle criticism, haters and/or naysayers in general? Is it something you pay attention to, or simply ignore?
Savannah: I have learned to block out the negativity. Yes, it is very hard to do this and sometimes you find yourself caring about what others think. But, you have to learn that if you love yourself for the way that you are, that is all that matters and no "hater" stands a chance against that.
Which aspects of being an independent artist excites you most and which aspects discourages you most?
Savannah: The best thing about being an independent artist is that you are in control of how you advance as an artist. Also, if you are affiliated with an amazing label, like I am, you are guaranteed major exposure. This was one of the things that I was ready for and I have been so blessed to be apart of MTS Records. One of the downfalls of being an independent artist is that it is very difficult financially to make money from your music and pay for your name to get out there. However, I believe it is worth it in the end. Like I have always said, you have to start somewhere in order to get to that next step.
If you had a choice to go on tour with any acclaimed international artist or band in the near future, who would you choose, and why?
Savannah:  I would choose Lauren Daigle. From her music, her poise, and simply who she is as a person is incredible. I think she is a great example of a true artist. Her songs are personal, her voice is outstanding, and her personality is the icing on the cake. I believe she is the whole package and a role model for any artist.
Could you tell us something about your latest project and what fans can expect to hear?
Savannah: My latest project consists of 3 songs. One of the songs that has already been released is my newest single called "We Are Us." I plan to release the other two songs in the very near future and will continue to grow as an artist every single day.
Do you have a personal favorite track amongst your compositions that has a specific backstory and/or message and meaning very special to you?
Savannah: I recorded a song a few years back called "Shes Gonna Fly." It can be found on my website at savannahnidermusic.com. This song holds a special place in my heart, as it relates to my late Grandma Linda. She was my biggest fan and I will never forget the role she played in pursuing music.
Creative work in studio environment, or interaction with a live audience? Which of these two do you ultimately prefer and why?
Savannah: I would prefer interaction with a live audience. When I am performing, I am in my own element. Once I start singing, everything becomes natural after that and I have a blast doing what I love to do.
What's your favorite motto, phrase or piece of advice, you try to live or inspire yourself by?
Savannah: Be true to yourself and let your personality shine. I was raised to be a humble, reserved young woman and I plan to stay that way. I believe personality shows wonders in the music industry. That will always be my main piece of advice.
How essential do you think video is in relation to your music? Do you have a video you would suggest fans see, to get a better understanding of your craft?
Savannah: I think videos portray what you are feeling and expresses a specific message. I have a music video from when I was 14 years old. The song is called "Coming From A Good Place." Even though this video was from a long time ago, it describes who I am and who I always want to be. This also shows that I was very mature at a young age and knew the image I wanted to portray as I continued to be active in my music career.
What is the best piece of advice regarding the music business that you actually followed so far, and what is the advice you didn't follow, but now know for sure that you should have?
Savannah: The one thing I lacked when I started was confidence. You HAVE to be confident in yourself. Only you know yourself the best. I let people push me around in the beginning, but I learned tremendously from that. Also, as I have said before, stay true to who you are and don't shy away from that. I think so many people who are in the music industry get wrapped up in the fame, popularity, etc. and forget themselves, what they stand for, and what their roots are. My mission is to bring that back. Yes, I have a talent, but I am so much more than that and I plan to let all of me shine any chance I have.
OFFICIAL LINKS: WEBSITE – FACEBOOK – TWITTER
Please follow and like us: