Grace Arts Center Presents The Zest Collective March 16, 2016 for a One Night Only Performance in Fort Lauderdale, Florida.
South Florida Native Son, Gentry George, returns home from Washington Heights, New York to present a special one night performance titled, "Courageous Chapel, Abandoning Theater," at the Broward County Main Library Theater in Fort Lauderdale, March 16th at 6:30pm. The project contains danced 'short stories,' a Dj's operatic interlude, and a finale re-interprets traditional gospel songs and spiritual dances through a collage of modern choreography by The Zest Collective featuring riveting music from Elvis Presley, Inez Matthews, Jessye Norman to the oriental and Persian melodies of Peyman Yazdanian.
Interviewed, Clare Vickery, Founder of Grace Arts Center, FL, gave Jamsphere some more insight into the connection between The Zest Collective and Grace Arts Center, and what they are presenting on March 16, 2016?
1) What is Grace Arts Center?
Clare Vickery: Grace Arts Center charitable arts programming grew out of a series of larger public events that Grace Cafe and Galleries, a popular local retail art gallery business with a pop-up cafe, which underwrote these projects for the community attracting large numbers of residents and tourists to a historic area along US1 in South Florida. The support of award-winning visual artists brought famous performers to the gallery and studio space including leaders in the dance and acting communities. Several local government educational initiatives also evolved out of the events which continue in some form even today.
2) What's the connection to Zest Collective?
Clare Vickery: Weekly classes and performing arts events of Grace Arts Center continued to grow and in 2011 when we received our charitable status and we received a grant to produce a multi-disciplinary project adapting Shakespeare's Romeo and Juliet to a modern urban version. It was designed to be performed on and off stage in various locations featuring hip hop, tango, spoken word and graffiti art. This project resulted in a new series of grants and requests for a second phase that emphasizes local stories of overcoming adversity – which in Shakespeare's version did not occur. Gentry George, a Miami native, had an interest in developing a highly stylized urban event that was true to the original call to action by Arthur Brooke's for young people to avoid the mistakes of parents and elders squabbling in the streets.
3) What is the program for The Zest Collective and Grace Arts Center are presenting for March 16, 2016?
Clare Vickery: Zest Collective has developed some very fresh and authentic choreography that speaks to the diversity of South Florida and features a wide variety of music that is classic, modern and all inspirational. Six (6) dancers from all ethnic origins comprise The Zest Collective and founder and creative director, Gentry George, will perform a special solo. A local popular local Dj artist, musician, and dancer – 'Felix' will improve musical tracks to highlight an unusual duet performance. He'll also create an interlude layering Florida funk history over classic opera arrangements. The finale will be truly inspirational via a twenty (20) minute collage of music, imagery, and monologue as dancers explore the stage with the audience striving to show the boundless human spirit.
4) What is the musical and dance offering?
Clare Vickery: The program begins with a youthful Indie rocker Scott James' ballad 'Go on Jane' to Zest's authentic and fresh blend of ballet and modern dance; followed by dancers' duet improvisation with local hip hop Artist, 'Felix' (of his band, Fusik and back-up for the popular band, Mayday) with choreography exploring urban life extremes; then a gorgeous rendition of 'Suddenly there's a Valley' by Gogi Grant and a solo work by George; followed by an interlude with Felix overlaying traditional opera melodies with funk classics. The dance finale features a twenty (20) minute musical collage of Elvis Presley "Crying in the Chapel," Inez Matthews' soaring voice singing "What a Chile," and an engrossing composition 'Spring Fever' by Iranian pianist, Peyman Yazdanian, punctuated by poetry and iconic speeches about abandoning fear and embracing one's destiny. For the entire hour, the audience joins the dancers exploring the stage with award winning style and zeal!
5) Who is Gentry George?
 Clare Vickery: He is the Founder and Artistic Director of the Zest Collective.  Read his bio here:
http://pitch.pe/1LExCsI – http://pitch.pe/1LExCsI
6) Do you have a video trailer for the project?
Clare Vickery: Yes. https://youtu.be/b_PqUdqDTW4 – https://youtu.be/b_PqUdqDTW4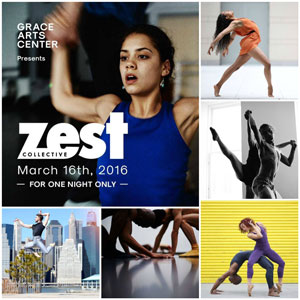 7) Who are the dancers of The Zest Collective that are performing during the March 16 production?
Jerard Palazo
Jerard was born in Manila, Philippines and moved to Canada at 10 years old where he began his formal dance training at the Royal Winnipeg Ballet School Professional Division in Winnipeg, Manitoba. He graduated in 2012 with a diploma and moved to New York where he received a scholarship to attend the Ailey School from 2013-2015. He also attended summer programs where he received full scholarship at the Ailey School, Breakout 2015(Italy), Cadence Dance Studio, Jacob's Pillow Contemporary Program and Nederlands Dans Theatre. He has performed works by Alvin Ailey, Kyle Abraham, Adam Barruch, Brian Brooks, Sonia Dawkins, Darius Drooh, Martha Graham, Vernard Gilmore, Francesca Harper, Christian Von Howard, Tracy Inman, Darrell Grand Moultrie, Ray Mercer, Crystal Pite, Matthew Rushing, Carlos Dos Santos, Jessica Taylor and Marcus Willis. He performed in Alvin Ailey's "Memoria" in 2014 and 2015 City Centre Season and "Revelations" in 2014 with a cast of 50 during Alvin Ailey American Dance Theatre Lincoln Centre Season. Palazo is a founding member of ZEST Collective and he is excited to now be working with Peridance Contemporary Dance Company as well.
Marcus Williams
Marcus Williams of Dallas, TX, has always had a passion for performance. Though only starting his training at the age of 17, he has seen much growth and prospective for the future. His first training began at the American Musical and Dramatic Academy in Los Angeles, California where he would study there for a year and become apart of original pieces choreographed by artists such as Rennie Harris. Transferring his studies to the Debbie Allen Dance Academy, he would later work with renowned choreographers such as Terry Beeman, Debbie Allen, Madame Dellas, Otis Salid, and many others while developing his techniques in modern, jazz, ballet, hip-hop, and hammock. He was selected to be apart of Debbie Allen's Hot Chocolate Nutcracker taking on lead roles for the first time along with her annual 2015 Gala performing alongside artists such as Chaka Khan, Simbad, and Tashina Arnold. While studying now at the Alvin Ailey school, he has choreographed/performed for shows such as Global Harmony, 2015 Spring Concert and with the Alvin Ailey American Dance Theater at their 2015 City Center Season. He hopes that his love for dance and passion for exponential growth will carry him to many more places and grant him ample opportunities.  Williams joined ZEST Collective in 2015.
Emma Fitzsimmons
Emma Fitzsimmons is from St. Paul, MN and graduated with a BFA in Dance from the University of Wisconsin-Stevens Point.  She is part of ZEST Collective and Soluq Dance Theater.  Emma choreographs dance works and also choreographs with her partner Mariusz Kujawski.
Mariusz Kujawski
Originally from Tomaszow Mazowiecki, Poland, Mariusz Kujawski dances with ZEST Collective and Equus Project.  When his family moved to Iceland he began to participate in Ballroom Dance competitions with Gurney Osk Karlsdottir.  They won the Icelandic National Championships in both the 18 and up division, as well as the adult division in 2009 for Latin American style.  Kujawski graduated from the University of Wisconsin – Stevens Point with a Bachelor of Arts in Dance.  After graduation he and his wife Emma Fitzsimmons moved to New York City. Their collaboration on the duet ëHow to Fly: Module 2í won the award for best choreography at Dixon Place for NYC10.
Zultari (Zui) Gomez 
Born in Dominican Republic and raised in Miami, FL, Zui received her BFA in Dance from the Boston Conservatory where she performed classics by Martha Graham and Jose LimÛn.  She has danced with ZEST Collective, Miami Contemporary Dance Company, DanceNOW! Ensemble, Nejla Yatkin, ArmitageGone! Dance, as well as Rosie Herrera Dance Theatre during APAP. Zui has appeared in Cabaret and Chicago with the EntríActe Theatrix Production Company in Miami.  Zui has worked with Ballet Hispanico & Ballet Hispanico Dos, Collage Dance Collective, RuddurDance Company, as well as alongside Jamar Roberts of the Alvin Ailey American Dance Theater in his premiere ëVeilí in Miami. This is her third appearance with ZEST Collective.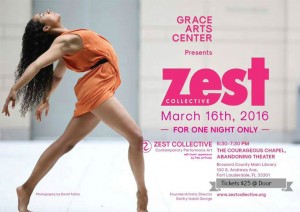 8) What is the next date that the Zest Collective will be back in South Florida?
Clare Vickery: We will be rehearsing for the new phase of R&J through the summer and into winter, adding to our multi-disciplinary team of professionals and looking for a few fantastic youth leads who are currently training locally for an arts career.
9) What is next project for Grace Arts Center?
Clare Vickery: We are looking to reopen a space in Fort Lauderdale with new creative entities in publishing, PR, technology and musical theater arts.
10) How can people find out more?
Clare Vickery: Grace Arts FL is the collaborative umbrella of two separate companies grace pop-up cafe and galleries (www.gracecafeandgalleries.com) and grace arts center, the charitable arts programming (www.graceartscenter.org). Phone is 954.816.3324. Twitter graceartsfl
Please follow and like us: