Never accuse Miami artist, Guichiny, of being unambitious. His 5 track EP, "5 Stars" somehow finds fresh angles on well-worn subjects. The booming bass, throbbing percussion, and expanding keys drive the captivating soundscapes, as the rapper sits calmly in the pocket, letting the electro soul-noir beats wash over him, confidently narrating from his book of rhymes. With a strong sense of direction guiding his every move, Guichiny allows his creative mind to wander, as he strikes the balance between hard-nosed spitting and breezy consciousness.
"5 Stars" is a verbose recording, like it's caught the emcee on a deliberate trip through the corridors of his mind. Guichiny's music is decidedly cerebral and emotive. It might be tempting to throw the intellectual label his way, but that's reductive, especially in an era where the term is used pejoratively and associated with self-righteous and pedantic emcees. Guichiny proves that he can spit and make listeners think, but he also takes a solid crack at making us groove.
Guichiny kicks things off with "Bad Guy", and comes out of the gate fully armed: "Its cold asf but I'm heated, huh. I've been hurt, lied to, and cheated, yea. People trying me for no reason. Say ima rebel that commits treason. All assumptions need to be seated. I'm the light in the dark like a beacon. Lyrics so cold that they end up freezing. Bad in style so this is my season." It's a head-down groove under the flickering hi-hats, and torqued 8o8s.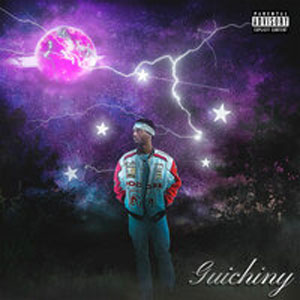 "Chills" is a brief but potent sample of what Guichiny does best. When it comes to meaningful music, replete with personal truths, his cup runs over. "Niggas be talking and writing they will. Too many words. Now I'm aiming to kill. Where's her love. Shawtii wanted a thrill. Heart turned cold. So I give people chills." He's a writer in the truest sense of the word. Finding the pocket where hip-hop purists and casual listeners alike, gulp down his offerings is a journey Guichiny is clearly undertaking.
"Star" is an exercise in technical precision, where Guichiny seeks out the perfect literary devices to use for the express purpose of showing off his skills. "Ion talk I be rhyming. Perfect bars perfect timing. People can't do they assignment. Ima star past the horizon." He works at times with eclectic song structures and crafts subtle, elite-level hooks, and as a writer, Guichiny stands tall with the best of them.
Hip-hop can be conquered in numerous ways, and being a master technician has its own merits. Looking to break into the stratosphere of his peers, whose prodigious technical skills have invaded the industry, is clearly Guichiny's next goal. "Hits" introduces him as a viable rapper independent of major-label constrictions. Ingeniously designed, the track gives Guichiny an electric platform to showcase his breathless, passionate rhymes.
At once a soothing meditation, as well as a potential crowd-pleaser, "Focus" aptly showcases Guichiny's ability to explore the roots of lyrical hip-hop with sincere soulful passion while expanding its perimeters with musical experiment. Guichiny's gift of the verse works perfectly, as his major concern is always the message and never unnecessary flights of fancy rhyme. And as such, it often puts him literally head and shoulders above his mainstream peers.
OFFICIAL LINKS: INSTAGRAM – TWITTER – SPOTIFY – YOUTUBE – SOUNDCLOUD
Please follow and like us: