SSG Joker is an artist and performer raised in the Atlanta, Georgia Metro Area. He approached the local hip-hop scene in his late teens, and he became a member of the rap community in Atlanta, quickly establishing himself as a promising local talent. Blending all the aesthetics of modern hip-hop, emo-trap, and other trend-setting styles, SSG Joker shares the colorful melodic flavors made irresistible by influential artists like Juice WRLD, XXXTENTACION, and Lil Uzi Vert, among others.
SSG Joker has been living up to expectations since his debut project and is steadily carving out his niche in hip hop with belting melodic runs and well-enunciated, fast-paced bars. He knows what he's good at, and ably performs his brand of melodic raps and sing song choruses. SSG Joker's voice stretches beyond the genre's already flexible boundaries in search for something much bolder and brighter.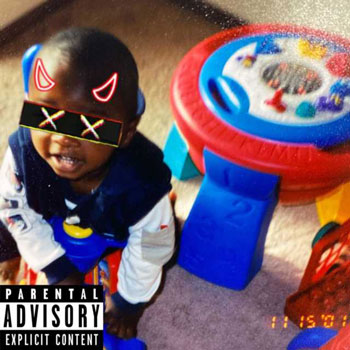 The fact is that he can really sing a melody, when he needs to. But what makes him stand out from the other singer/rappers is his ability to create a truly engaging backdrop that compliments his vocals; something he does again effortlessly on his latest single "Twenty-One", now available on all streaming platforms. The Atlanta rapper sets the tone right from the start with this track – a formidable introduction that blends a Latino motif with psychedelic trap atmosphere.
Everything intoxicating found within SSG Joker's music is here; the heartfelt, passionate verses and the catchy vocal hooks ride the slow burn of the mesmerizing beat, as SSG Joker easily morphs between different inflections with the confidence of someone who's mastered his own style, and the rap game at large. He executes the song's vocal aesthetic with a confident elasticity.
One moment SSG Joker careens off of "Twenty-One" like a rollercoaster in motion, the next he stretches notes like a balladeer. This is what artistic versatility sounds like. It is the result of studying the game's best. Clearly the future is just as bright as SSG Joker's voice. Whatever beat he is floating over, SSG Joker keeps a stash of flows and sharp bars that show he has the makings of star material.
Atlanta has a reputation for raising young rappers who can effortlessly translate their stories and experiences into catchy, melodic rap songs, and SSG Joker is the latest to grab our attention. What sets him apart from his peers, though, is a natural groove and bounce that sits at the core of his best songs. SSG Joker's musical ability is top notch, but the way he carries his music persona is almost as important.
SSG Joker finds transformative ways to empathize with his listeners, and exudes confidence while his doing it too. Moreover, he has the star power and quality music to ride the momentum "Twenty-One" will surely offer him. SSG Joker emerges quickly and powerfully, somehow fully-formed as a confident artist with an unbreakable aesthetic. Considering all of this, his goals feel a whole lot more probable than simply possible. He is clearly onto something.
OFFICIAL LINKS: INSTAGRAM – TWITTER – SPOTIFY
Please follow and like us: