This album is essentially supposed to be Robot Raven's "Greatest Hits, Part Two", but the simple fact is that most music listeners have never heard one of these 18 songs. This is a tragedy in my opinion, for they are truly missing one of the most musically sincere underground rock duos of our time. Just over a week ago we reviewed Robot Raven's "Greatest Hits, Part One" album, featuring another 18 tracks. That's why we know who exactly who Edmond Bruneau (the lyricist) and John Rigg (singer, musician and music producer) are, what they do, and moreover, just how good they do it.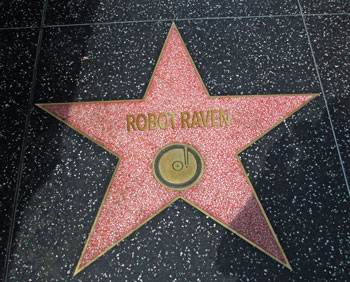 Robot Raven's is one of the few bands that can be dubbed "lyrical genius," and this album brings that out.  "Screwed Again" is a wonderful opening song, and it's only the beginning. The album goes on to show other interesting works such as "Leap Of Faith," "Mr Inappropriate," "I Want to Know You," and " Crank It Out." These guys are simply better than the public consumption of music wants.
Let me say it this way: If I were marooned on the proverbial deserted island, and could only bring two albums with me, both Robot Raven albums would certainly make the list. Why? Firstly because together the albums contain a whopping 36 songs and secondly Robot Raven's music incorporate bits and pieces of sound that reminds me of just about every rock n' roll band I've loved through the decades, starting from the 60s.
The outstanding features of Robot Raven, and what differentiates them from the pack is the superb songwriting, the emotionally honest vocals, and the excellent multi-layered arrangements. In an age when bands are just trying to get their videos into everybody's living room and ride the next wave of mainstream radio, if Robot Raven is indeed the thinking man's band, then this album is a quintessential piece of work.
You've got beauty in songs like "Leap Of Faith", a rather paradoxical simplistic diversity in "Dreamacres" – a unique and unusual musical setup coupled with contrastingly complex concepts on "Party Lines Party Lies" and "Summertime" with its use of spoken word, human yearning in "I Want to Know You", wit in "Two Heads One Heart", wistful appreciation in "Together". Edmond Bruneau's lyrics are characteristically haunting and musically speaking, the depth of John Rigg's composing and arranging is incredible throughout this album.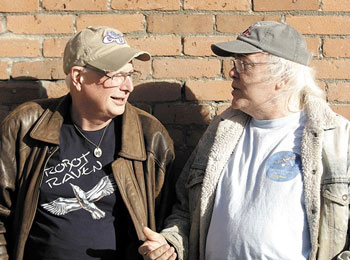 What is also worth noting is the little nuances they use to distinguish their music like the harmonies and counter-harmonies. This is a melodic, emotional, and sometimes even gritty in places. However, if you want an example of rock n' roll that does what rock n' roll is supposed to – push the limits, say what you'd rather not hear, and forget about the rules, it's definitely worth picking up.
Robot Raven are an artsy, alternative message-making, storytelling band with a penchant for powerful music and telling it like it is. There is genuine emotion in the singing, and the songs range from ironic to whimsical, a little disturbing to just plain catchy. What's even better is that the songs never copy each other or even have similarities; each is unique, a rarity in today's era of predigested pop ballads and dance scores.
Go to this STORE or FACEBOOK and get a CD of Robot Raven's Greatest Hits, Part One or Part Two for only five bucks, including shipping!
Please follow and like us: