Christian singer-songwriter Rachel Renee started writing music when a lifetime struggle with fear and depression brought her to her knees. Graduating with a vocal performance degree from Point Loma University in 2000 allowed her to use her gifts to write music for God, which began her healing. It is not too common that I enjoy every single song on an album release. That happening on a Christian music album release is even rarer. Rachel Renee's 9-track album "Delivered" broke the mold for me.
This inspirational album feels like a personal prayer to God by Rachel Renee. It is a tribute back to God and you can hear her determination in each song. Renee separates herself from the Contemporary Christian crowd with her lyrics and genre-bending music, sometimes rock or pop music that just doesn't fit into the peg holes of genre. She seems less willing to follow a winning formula for popularity and more willing to open the world of living the Christian life. She does so in spades on "Delivered". It is a worship album without being insipid elevator music.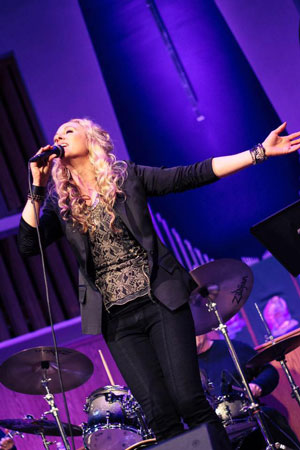 Rachel Renee certainly does breathe hope with her music. The messages, the emotion, and the inspirational sounds of "Delivered" have kept it on my daily playlist for over a week. Renee possesses both a beautiful voice and an amazing ability to radiate her faith into the surroundings. The songs are so well written, with deep and moving lyrics, accompanied by melodies that will leave you humming the songs under your breath all day long. Renee has written an album that allows us to peer into the corners of her heart, showing that God met her in her brokenness, and that God can meet us where we are at too.
"Delivered" is a wonderful compilation of songs that praise who God is, and will leave listeners brimming with hope and ready to share God's love with the world around them. Of the songs on this album, my favorites are "We Are In Awe", "He Will Prevail", "Deliverer", "Love You", "Holy One" and "Immanuel". Rachel Renee's incredible vocal range and her compelling and relevant lyrics are what perfectly combine to make these songs perfectly stellar and almost flawless.
Renee's vocals float across epic soundscapes of songs soaring with melody and meaning where each is an immersion into her life. Each song is unique, tied to the emotions and circumstances that inspired it, and yet each is timeless, identifiable as the outpouring of a singular artistic vision. In true Rachel Renee form this album goes deep into the issues we face, and spotlights the solution of love from a tireless Savior. If you've never heard Rachel Renee before, this recording is definitely a great introduction to this beautiful and talented artist.
OFFICIAL LINKS: WEBSITE – REVERBNATION – CDBABY – ITUNES – TWITTER – FACEBOOK
Please follow and like us: