Simply Mary is more than a five-piece band. It is a mission that started out in early 2014, when singer-songwriter, producer and founder of the band, finally had to flee her life. "I was being GPS tracked, my emails hacked, and followed constantly through all of my Social Media Accounts, despite a direct Court Order and 3 contempt charges," says Mary. The victim of stalking she had to relocate several times, eventually finding herself on the other side of the country, in a new life and new surroundings, alone and full of fear.
Simply Mary met Samantha P. who gave her the support and stability to pursue her goal of recording and releasing an album. Soon Simply Mary grew into a five-piece band, consisting of Sean Andre – (Bass Guitar, Composer, Backing Vocals), Riqotchez – (Percussion, Composer, Backing Vocals), Simply Mary – (Singer, Songwriter, Composer), David Barnard – (Drums, Composer, Backing Vocals) and Ryan McWilliams – (Lead Guitar/Composer).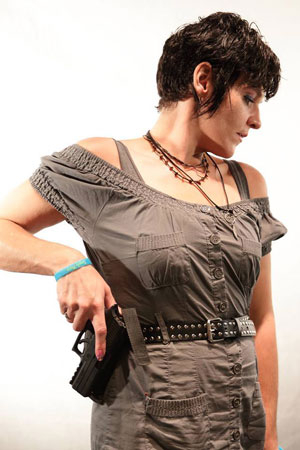 In 2015 Simply Mary released its 14-track full collaboration album "FREEDOM BOUND", especially created to help empower survivors of Domestic Violence and Child Abuse, and now Simply Mary has gone one step further by releasing the single, and supporting video, for the song, "God Only Knows", which deals with the atrocities of stalking.
Finally, we are blessed with someone talented enough to sum up the human experience with one shockingly universal cry, "God Only Knows". The music has been beautifully constructed as well, providing a wonderful soundscape for Simply May to unleash her. The track is riddled with raw emotion and never loses its grooving guitar-driven edge, so perfectly enhanced by Barbara Grant's undulating violin interludes, which add an even more dramatically emotional quotient to the track.
Simply Mary's voice reaches out to grab you, as she expresses her sentiments – "You can try to track me down / Run me right out of town / Keep trying you'll never win / You kick and throw me down / You'll get yours this time around / But when / God only knows…" Simply Mary is a challenging artist and this is seriously an outstanding track (and video), as is the entire album to be completely truthful. Mary's versatile, muscular singing voice has a power and range that reveals her new-found fortification as well as the underlying emotional experiences of her lifetime.
Comprehensively produced by Simply Mary and Tom Whiting, and engineered by Nicole Shawn Atchison, what ultimately makes "God Only Knows", such a masterwork is its raw power and simmering passion, the brooding emotional intensity, the pure heart, guts and soul that pours out nakedly from every note of this recording. The bottom line is; do not take any form of abuse lightly!
OFFICIAL LINKS: ITUNES – AMAZON – SPOTIFY – GOOGLE PLAY – FACEBOOK – TWITTER – YOUTUBE – REVEBNATION
Please follow and like us: