Perkway Jay is a young and talented rapper hailing from Dearborn, Michigan. At only 18 years old, he has already established himself as a skilled artist, producing, writing, mixing and mastering all of his own songs. Not content with just creating music, he also designs all of his own cover art and promotional material, showcasing his artistic talents in multiple mediums. Perkway Jay's passion for music started at a young age, when he began making beats in the 6th grade. However, it wasn't until 2018 that he made his debut as a rapper with his song 'Trippin'. Since then, he has been steadily building a following with his unique style and hypnotic flows.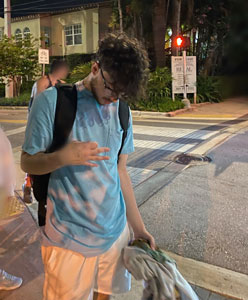 One of Perkway Jay's strengths as an artist is his versatility. He is capable of adapting to a range of beats and styles, but he primarily focuses on Detroit-style beats, which are characterized by their hard-hitting basslines and gritty lyrics. Despite the aggressive nature of the beats, Perkway Jay's flows are often smooth and hypnotic, creating a mesmerizing vibe that draws the listener in.
In addition to his musical talents, Perkway Jay is also a skilled visual artist, using his designing aptitudes to create his own cover art and promotional material. This not only displays his artistic abilities but also helps to establish a unique and recognizable visual identity for his brand.
Perkway Jay's single 'MIP', is a mid-tempo, head-nodding groove and a provocative hip-hop track that showcases the rapper's lyrical prowess and braggadocious attitude. The lyric sheet is marked by a relentless flow of rhymes and clever wordplay that make for a catchy and memorable listening experience.
'MIP' begins with an attention-grabbing command to 'stand up'. This sets the tone for the rest of the song, which is filled with confrontational and boastful lines that demonstrate the artist's confidence and self-assurance.
Throughout the track, Perkway Jay flexes his skills as a lyricist, comparing his creative style to Picasso and his lines to the master artist's brushstrokes. He also uses clever wordplay to reference hustling pastimes, and boasting of having 'made 30 off of grass' while warning everyone that 'nothing ever free' when it comes to needs and desires.
Perkway Jay also touches on themes of success and ambition, expressing his desire to achieve 'millions to my name without the risk of having em'. He paints a vivid picture of not only a daring lifestyle, but also the confidence in his grind when he states, 'make hard music'.
The repeated the words 'putting lines on this track like Picasso did with paint' and 'got the world into my grasp', serves as a powerful and memorable hook that reinforces the artist's self-assured and unapologetic attitude.
Overall, 'MIP' is a strong example of Perkway Jay's skill as a rapper and his ability to craft clever and catchy lyrics. While the song's content may appear controversial and confrontational, it is undeniably effective in its delivery and leaves a lasting impression on the listener.
With his combination of musical and visual talent, Perkway Jay is undoubtedly a rising star in the rap scene. He is constantly pushing himself to create new and innovative music that sets him apart from his peers. As he continues to grow and evolve as an artist, at only eighteen, it will be exciting to see where his talents take him in the future.
OFFICIAL LINKS:
https://youtu.be/cNk1m2ywijo
https://youtube.com/@perkwaymusic
https://linktr.ee/perkwayjay
Please follow and like us: