Nick Savage describes himself as "An asshole with a heart of gold". Ohio born and bred Nick wanted to be different since the day he was born. He says he is "awesome at ruining relationships and engaging in self-destructive behavior". The album "Sad But True", with beats by Clickb8, was produced in a home studio. "No budget, no fancy equipment, just ambition," concludes Nick. A crazy amount of music just dropped. New emcees, foreign emcees, producers, pop superstars, R&B crooners, and of course this guy named Nick Savage; you can't even throw a stone into the pond without hitting an artist that requires some of your time.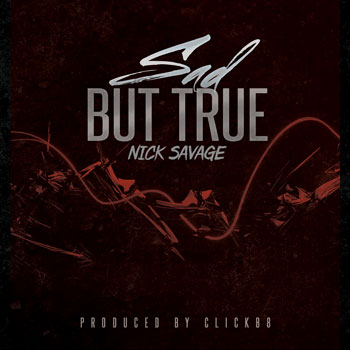 Still, while there's much to digest, many of these artists are going to have to take a number because, as far as I'm concerned, Nick Savage is at the front of the line. For starters, Nick has one of the most aggressive and devilish flows in rap. Combine that with Clickb8's knack for face-melting beats, and needless to say there is much to be excited about.
Nick Savage's story is one of triumph over the odds; you can feel the anger and frustration from his past in his music right from track one, "The One Who Knocks" where he certifies his arrival onto the scene in a hard hitting way. Maybe you're new to Nick Savage like I am, which is totally fine.
The first thing you will notice is that he can destroy a mic. I realize that's generic and vague, but just listen to "Runnin Thru Tha Ville" and you'll realize it's an example of when hyperbole isn't hyperbole at all because it's absolutely true. And if you already knew what kind of destruction he's capable of delivering than good news, this album has plenty more just as good as the above mentioned track.
What I love most about this recording is Nick's cadences and choruses in the more melodic tunes. And you can find some brilliant and soulful singing on "Mary" and "Different In Cali", two of the most infectious tracks on the album.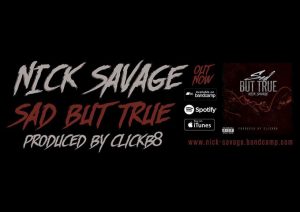 I almost didn't pick "Turn 2" as a standout track because it felt like such an obvious choice. But Nick Savage has a rapid fire, knifing flow which will make this track a treat for listeners. What I love most though is that while the raps are fast and passionate, they are also surgical.
Too often we consider "going in" rapping to merely be super loud and aggressive, but there's nothing impressive about someone quickly rattling off bar after bar with no regard for the beat. Here Nick executes everything with complete control.
And don't think I forgot about the closing track "Mr.Nice Guy". Here Nick Savage's flow has a waivier, laid-back feel, but right behind it is a shadow vocal dub that is immersed in high energy and electrifying effects, setting the track alight in a unique and eclectic way under the steady piano-driven beat.
And it is by this time that you realize Nick Savage is no ordinary rap artist. In fact the word rap, may be far too limiting for what Nick achieves here musically. This album is so much more, and will be loved by rap and rock fans alike. Everything from Nick Savage's flow to the content to the production is stellar. There's not an obvious weak spot in sight.
OFFICIAL LINKS: BANDCAMP – SOUNDCLOUD – TWITTER – ITUNES
Please follow and like us: