"You Don't Know Me" is a statement that seems almost symbolic for Natalie Jean, who's managed to forge a distinctive path in the landscape of independent music by creating a niche sound that blends the timeless nature of vintage Soul, Pop and R&B with her signature ethereal style. Throughout her growing career, Natalie has been operating in a field all her own, one where her captivating sound and daring writing style has established her as one of the most fearless and compelling underground artists in the genres she participates in from time to time.
On one of her latest songs, Natalie Jean sings in a very conversational way with a clear, simple style that I find to be very attractive and real, kind of like talking to the girl next door. Moreover, the single "You Don't Know Me" avoids the trappings of too much contemporary music by sticking to the basics: memorable music, incredible melody, a superb voice, and all of it captured honestly, and without frills.
It flirts with modern pop while maintaining a folk and country foundation. Natalie seems to have taken traditional Americana stylings and makes it feel new again. While Natalie Jean has consistently bared her soul across her acclaimed songs, she once again calls upon her storytelling skills to narrate her tale on "You Don't Know Me" in a way that makes it feel like another very personal record.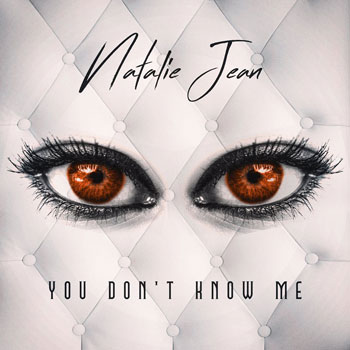 The sultry songstress has a way of taking you on a journey of passion, with her heartfelt lyrics reflecting her bold ability to tackle emotional topics. The introspective composition is soul-searching put to music, with its rolling piano making you want to emote, while the reflective lyrics evoke even more feeling as Natalie ponders the validity of one-sided relationship.
"With or without you, I'm still all alone. I think I've got to spread my wings and learn how to fly," she contemplates, drawing you in with such powerful imagery that beg you to cling to every word.
Natalie uses "You Don't Know Me" as a gateway into her soul, creating a storyboard in your head with her thought-provoking lyrics and poetic melody, creating the kind of track that envelops you with every intriguing note and masterful lyric. She has a way of moving you with her honest heart and exquisite sound, destined to find true love no matter where she voyages musically.
Natalie sings with a haunting sense of self-discovery and self-empowerment. "You Don't Know Me" accepts the pain and begins to think about healing, and setting the narrator free from an unworthy relationship. Natalie Jean is a deceptively powerful vocalist.
She is able to sing with both vulnerability and strength, while her raspy vibrato can also become quite sensuous and alluring. Natalie has created a sonic palette on this single to translate her vivid feelings into expressive, visceral music. The soundscape provides texture and color while allowing room for Natalie's kinetic, muscular performance to take center stage. "You Don't Know Me" shimmers and shines with its narrator's heartfelt desire.
OFFICIAL LINKS: WEBSITE – FACEBOOK – TWITTER – YOUTUBE – INSTAGRAM – ITUNES
Please follow and like us: