'Mirror Image Dog' is the brand new single by Margaret, a rock band formed in Northern Ireland during the early nineties. Originally the band, who released their EP 'Strawberry Womb' in 1994, consisted of Dawn Alexander (lead vocals, guitar), Richard Murray (lead guitar, BVs), Scott Jamrozy (bass, BVs) and Darren McLaughlin (drums), but after a few years spent gigging in their local scene the members each went their separate ways. In 2016 Margaret got back to together as they felt they had some strong material lying around, ready to be recorded.
Unfortunately drummer, Darren Alexander had moved to the USA and couldn't be a part of the project again. So Jason Meekins threw in his lot, and lent his drumming skills to the recording. The result is the single, 'Mirror Image Dog'.
Right out of the block I can say that if you have any affinity for Fleetwood Mac's music, you will love this song.  Moreover, this track has a classic feel that almost plays like some sort of long lost Led Zeppelin-Pink Floyd jam in places – especially in the instrumental sections – and that's not a bad thing at all, actually.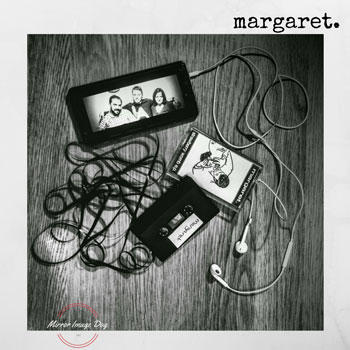 'Mirror Image Dog' must surely stand as  peak, and shining moment in Margaret's entire career, a truly special track that transcends commercial expectation and still demands close attention. With the songwriting by Dawn Alexander, Richard Murray, and Scott Jamrozy in full bloom, Murray was able to fashion a stunning arrangement which makes this work as both a catchy pop tune and an avant-garde rock experiment.
Dawn Alexander never sounded better from what I can gather, as she expands her vocal into full blown explorations of the heart and mind;  the airy harmonies and lacy, intricate overdubs, manages to evoke the flavor of the song's lyric with disarming grace.
With all the traits of an instant classic, 'Mirror Image Dog' quietly builds its mood with a mystical subtlety and craftsman-like precision. Richard Murray delivers a guitar solo that takes on a nervous, almost manic tone and then he cuts back with intimate torch moments that will tear you to pieces.
Jason Meekins attains new heights of drum god status by doing just the right thing on percussion.  It is a credit to his technique that the playing is incredibly tasteful, and at no point does he overwhelm the song – indeed, his strength often lies in what is hidden just a half-a-layer beneath the other instruments.
This very same compliment can also be extended to Scott Jamrozy, who holds the bottom end of the rhythm together scrupulously well alongside Meekins.
Some groups have great songwriters, while others have superb instrumentalists. A few have stunning singers and solid producers. Luckily for Margaret, they have all these things! 'Mirror Image Dog' is currently available on Nimbit and Broadjam but will be officially released across all major download stores in 1 Jan 17.
OFFICIAL LINKS: NIMBIT – BROADJAM
Please follow and like us: