Patrick Kagarama AKA Joel Kapat is a Congolese American recording artist, songwriter, and designer, who obtained a degree in Human Service and Addiction counseling. His musical career started by the influence of his mother singing to him in her native language which he barely understood. However, he would listen to the melodies which would give him inspiration to create his own. In 1999, due to the civil war that took place in the Republic Democratic of Congo, Joel and his family escaped to the Republic of Benin as Refugees and in 2000 Joel and his family were given asylum in the United States. Joel and his family arrived in St. Louis, Missouri in March of 2000, and since then Joel has made St. Louis his home.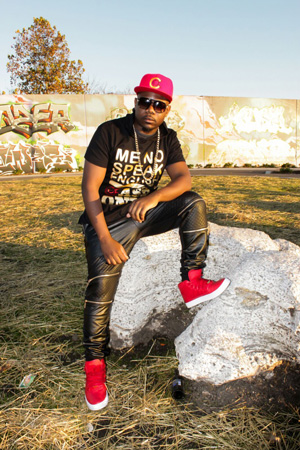 Afropop music is a sound and a movement, music and a state of mind. It's the joyous awakening of a continent from a colonial nightmare and the crushing realization that the nightmare isn't over yet, anguish and happiness whipped together with traditional drums, cheap guitars, and even cheaper amps.
Now cross that with American Urban music, and in particular Hip-hop, and you have an explosive and colorful music mix – both melodic and beat-pumping edgy. Afropop is fusion music in the truest sense, incorporating elements of essentially any available source material.
And this is what Joel Kapat brings to the table on his album "Trent Ans". Patrick Kagarama AKA Joel Kapat sings, raps, laughs and brings a collection of joyous rhythms to these songs that will have you grooving and nodding with approval at every turn of a subsequent track.
From the exotic upbeat rhythm of "Mailo" feat Ruff Kid, to the urban edge of the anthem "Bourgeois Ft. Cedior", and the reggae-styled melodics of "Dreamer", onto the conscious and thought-provoking lyrics on "Religion" Feat CeDior, and then the hand-clapping Afro-rhythms and layered vocals on "Na Leli", Joel Kapat delivers a handful of solid, uplifting crossover tracks that will not leave any listener indifferent.
Joel Kapat is a great lover of wordplay and fluently bilingual (or is that tri-lingual?), which gives his music an added dimension and an extra edge. The production contains a wisdom that succeeds in beautifully documenting the sounds that are channeling out of Africa and America today.
The music on display on "Trent Ans" evokes beautiful sentiments and passions, and although the melodies may novel for some, the delivery packs the same character and soul common to what's coming out of the best urban music releases all over the country right now. Joel Kapat transcends the long-standing coast to coast music debate; he's on a much bigger continent-to-continent cultural shuffle!
OFFICIAL LINKS: REVERBNATION – FACEBOOK – INSTAGRAM – YOUTUBE
Please follow and like us: