At the center of Indie LAgone is Allen Swank who says he draws influence from greats like Depech Mode, INXS, Billy Idol, The Cult, The Stray Cats and The Cure. The combination of classic influence combined with the love for the more modern sounds of bands such as 12 Foot Ninja, Muse, Filter, Dommin and 30 Seconds to Mars have spun into a writing style, sound and vibe all of its own. Swank teamed up with friend and former band mate, Scott Belcher (bassist/vocalist) in 2011. They immediately began the stitching process that helped to define what is now Indie LAgone. Guitarist Jason Godfrey, drummer Scott Fugate and Cody Hensley, all of whom have been an intricate part of the Knoxville music scene for years, came to complete the lineup.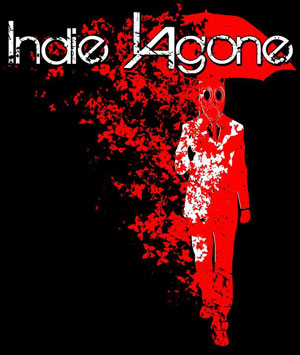 Currently preparing for a new 2016 release, the band as still plugging their previous EP, entitled "STUNNED". This is a recording that you can listen to without having to program in a few select tracks first, because the entire5-track EP is simply mind blowing. This is a recording that needs to be in every rock collector's library.
The smooth, rolling, and deceptively catchy riffs in this EP complement the vocals extremely well, making the sound absolutely awe inspiring. The fusion of Allen Swank's uncanny ability to create those heart wrenchingly powerful chorus moments, with the mature, tight, and classic tones from the rest of the band allows for an incredible listening experience. Even with the band's varied influences, "STUNNED" is an extremely solid rock album.
There are no deviations into other feeble subgenres. This thing kicks ass right from out of the blocks. Only one other band I know of, has been able to keep a clean, pure rock n' roll track sheet like this – and that is The Foo Fighters. They may rock harder, and sometimes a little softer, but they're always rocking, with no bullshit in between. On "STUNNED", Indie LAgone tread that same path with great honor.
Listening to the album over the last week, I'm very happy to say that Swank and the lads have written an air-tight EP with some great songs that showcases Allen's vocal abilities and the overall musicianship of the band. "Over The Edge" kicks in dripping with a great melody, colorful chord changes, and a rip-roaring drumbeat. But "Dreamkiller" is the first song on the EP to take my breath away.
A simple melody, a classic soft-loud arrangement, and a changing tempo may sound like a clichéd power rock song to many, but not when it's done this good. In the tradition of the best Whitesnake and David Coverdale could put out, Indie LAgone slay this track with phat guitar riffs, stunning drumming by Scott Fugate, and once again, those soaring vocals by Allen Swank.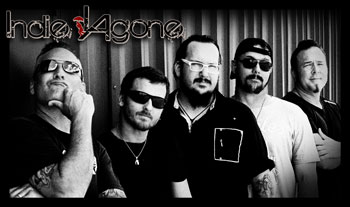 Talking about Coverdale brings me straight to "I Calamity", which features some superb keyboard runs, reminding of the late Jon Lord and his work with Deep Purple. Mentioning two ex-Purple players in the space of two songs should give you the measure of the band we're talking about here.
The fact that this EP was recorded in 2014, and that Indie LAgone is not a name on every rock fan's lips by 2016, is a heresy in my book. I shall remind you that less talented bands have since won Grammy's and have multi-platinum records in their catalog.
I won't mention names so as not to embarrass anyone, but you know who they are. I don't know enough about how Indie LAgone run shop, but if they have a management team behind them, then someone needs to be fired right now before they waste any more time!
And as if to drive my point home, the EP closes with the thunderous bonus track called "Hauntings in Hindsight" – another showcase for how tight, professional, melodic and ridiculously hard-hitting Indie LAgone is!
OFFICIAL LINKS: WEBSITE – FACEBOOK – TWITTER – REVERBNATION – YOUTUBE – BANDCAMP – AMAZON – CDBABY – ITUNES
Please follow and like us: