ICEEWRLDD is a male hip-hop artist hailing from Atlanta, Georgia, USA. He has established a brand known as Frozen Forever. The name of the brand symbolizes numbing oneself from the pains of poverty, heartbreak, and disappointment, as well as ignoring one's emotions to avoid further hurt. This coping mechanism also serves as a defense mechanism. At the same time, Frozen Forever also represents timelessness, as ICEEWRLDD aims to leave a lasting legacy through his music and message. He is determined to persevere through any challenges and to make a positive impact on society, inspiring others to never give up. ICEEWRLDD wants to be remembered for generations to come, and he believes that his music and message will endure without ever becoming outdated.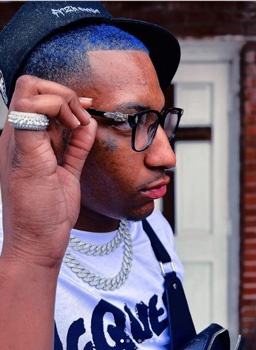 To figure out if the aforementioned premises had any substance and reason to exist, we laid our ears on ICEEWRLDD's 13-track album "LOCCHARDT". This is an ambitious and overwhelming recording, a sprawling production bridging the gap between classic and ultra-modern rap with plenty of melodic moments, as ICEEWRLDD slides between rapping and singing with effortless ease. When it comes to pure performance, the artist's voice has rarely been more elastic.
ICEEWRLDD burrows through the beats to create exciting vocal pockets. And the beats across "LOCCHARDT" are uniformly impressive, as the production team offer up a variety pack of bangers and vibe-inducing arrangements.
Right from the opening track, "Keep My Distance", it quickly becomes clear that ICEEWRLDD is a talented and engaging artist who's becoming better and better at exposing his craft and emotions for anyone willing to witness it.
The dark cinematic intro of "MOB", unfolds a moody soundscape wrapped up in multiple sonic layers that mesmerize. Next up, "Believe Me Now", exposes a unique vocal with a twisting melodic delivery, before ICEEWRLDD slides into "Touch My Chain", unpacking his impeccable flow, tight wordplay and versatile delivery.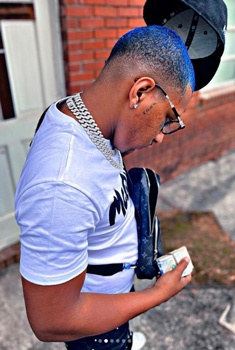 This leads to the soulful slow burn of "Get It Bacc", and the wistful groove of "Deserve It". All throughout, the basslines rumble while the percussion skitters in dynamic fashion. ICEEWRLDD's melodic instincts are still strong on both "Gohard", and "Withdrawal Freestyle", but his flow is chameleonic, suited to any given moment on these tracks, as he switches his cadences up and down.
"No U Turns" is tight and meticulously crafted, but loose enough to allow for surprises, on a track list packed with memorable lyrics, flows and production. ICEEWRLDD's specialty is in creating irresistible vibes, a trait on full display in "Don't Give It Up" and "Rebound". The chill piano backdrops forming the perfect foundations for the rapper's emotional and heartfelt deliveries.
Where ICEEWRLDD really shines, however, is in the more subtle cuts, such as "Issues", where he is able to unfold all nuances in his voice. The album closes with shimmering guitar-driven soundscape of "Scarred". On top, ICEEWRLDD constructs a relentless flow that pushes the momentum of the track. It's an impressive way to close out an already excellent album.
LOCCHARDT is a testament to raw talent honed razor sharp, and signals a bright future ahead for one of modern underground hip-hop's most gifted artists. With his powerful lyrics, incredible variety of flows and unwavering commitment to his craft, ICEEWRLDD is poised to become an influential and an important artist in his field.
OFFICIAL LINKS:
https://linktr.ee/frznfrvr
www.FrznFrvr.com
https://distrokid.com/hyperfollow/trichh/locchardt
https://www.instagram.com/frznfrvr/
Please follow and like us: