Grynd Seazon love music, they love Hip Hop, they love herbs.  Noah met STX (pronounced Sticks) from going to a local bar in Houston.  After years of Top 5 debates and discussions, STX revealed to Noah that he had moc skills, so Noah sent him some beats.  The next day STX brought over Whoa Vada & Breeze.  The rest is in the music, or rather, more precisely is in the "Grynd Seazon LP" featuring the collective talents of Grynd Seazon & Noah Archangel.
This is a classic type of recording, mixing old, and new style ideas. It is the type of recording that brings people into hip-hop as it is all-embracing. The album is just that good. Its dark, it's soulful, over the top and surreal.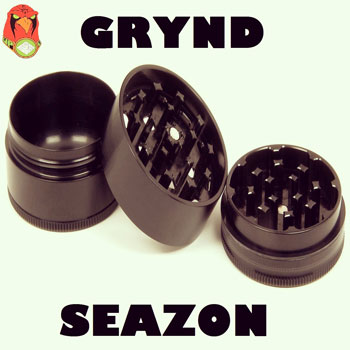 The production across the 6 tracks is top notch, the samples and beats are creative, gritty, rambling, and downright infectious. The whole thing works perfectly. And for me, it works best on brilliant standouts like "Politix" which samples a horn and vocal soul session that will have you 'grooving and moving' while you savor the rich lyrical flows painted across its soundscape. Both musically and lyrically, this is just on a different plane.
No one quite sounds like this collective do on "Ride" they are one of those inimitable groups who can't help but rock out their own way. Their flow, verbosity and the sheer audacity of their quaint choruses can hardly be matched in the current underground arenas.
These qualities all tie in perfectly with "Roll Up", which is dense, tight, and smoky, and has a diamond hard flow to match. Noah Archangel proudly displays his wares on "Red Jedi ft. STX", a track which rides on an incessant rolling beat and an urgent rhyme scheme.
Throughout this album there is almost no doubting the remarkably easy flows and creative metaphors, which can either make you just want to hear more, or rewind it to hear what somebody just said. While listening to "Grynd Seazon LP", and hearing some of the unbelievably creative rhymes, I wondered how they came up with some of these.
Grynd Seazon has the ability to hit you in all types of places lyrically, which has always been a rare quality in emcees ever since the infant stages of hip-hop, and which is almost completely extinct in today's mono-thematic rap scene. The collective fully show their prowess on the closing track, "Mistakes", which for me, is lyrically the best track on the album.
Grynd Seazon & Noah Archangel have dropped something with the "Grynd Seazon LP" that is very rare – It grabs you emotionally, as you feel the intensity of the lyrics sink into your bones, and the beats set an atmosphere that sucks you right into the record. Give your ears a treat by picking up this recording now!
OFFICIAL LINKS: WEBSITE – FACEBOOK – TWITTER – INSTAGRAM
Please follow and like us: