So often, Producers/DJs flood the music scene by redoing what's been done and serving up mixes that, after listening, seem just like the next DJ's mix. The market is filled with dance floor tracks to get you moving, but anyone looking for this in 'Primal', the brand new track by G.H. Hat is not going to find it.
They're going to find so much more! The trip-hop feel of 'Primal' is very specific but easy to get into, and for most, it will be deemed as a superb EDM effort. But getting the complete full effect of the track will take an acquired taste and a trained ear, after which time the listener's verdict on this track will most probably be summed up in only one word – Stunning!
G.H. Hat is a multi-genre composer and remixer. Remixing works from classical, pop, rock and electronic genres, composing mainly in EDM genres. This is definitely a genre meant to create a mood, and not many electronic tracks will pull me in like this one.
Listening to this song from a distance diminishes the feel of the music, but those who have the ear for it will find an amazing work of art in the music. Dark undertones with crunchy sounds interplaying create a mood of slow and steady changes throughout the larger, sweeps of the entire track.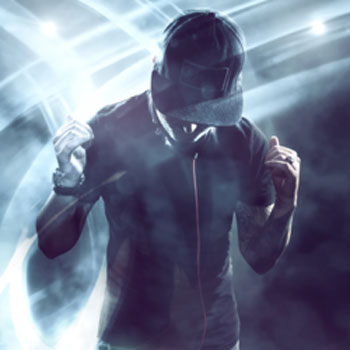 It sends the listener into an aural overdrive, peaking several times, with G.H. Hat laying on the pressure more cleverly than the listener is expecting and then taking it away just as you are craving more and coming back during the lingering energy created from the previous build.
The crazy thing is, these musical builds and drops, if we can even call them as such, are almost imperceptible; they are done so delicately it is almost unnoticeable unless you pay extreme attention, because G.H. Hat is quite the master of subtlety. The changes in his music soundscape, is more about what you feel than what you hear, at first.
The track is put together rather amazingly. And this, slightly over four minute musical journey is not for those who lack patience, as G.H. Hat melds his instrumental together with perfection. Sounds intermingle, setting in before disappearing only to emerge later in the mix.
And no part of this track falls into a boring '4-measure-and-add-another-sound-on-top' routine. As I said before, like fine art, it takes a certain listener to fully gain the magic of 'Primal', although anybody and everybody who digs trip hop can enjoy this thoroughly.
On this track G.H. Hat taps deep into the swollen heart of primal beat-based music and the best thing about this song is that it will not show age easily. At a time when EDM fads change overnight – what's new today is gone tomorrow – G.H. Hat captures the cutting edge of trip hop and gives it his own personal flavor.
This is not music meant to powerfully crush your skull, but to gently open your mind. And the effect is much longer lasting, guaranteed!
OFFICIAL LINKS: WEBSITE – SOUNDCLOUD – YOUTUBE – TWITTER – FACEBOOK – INSTAGRAM – SPOTIFY – BANDPAGE – REVERBNATION
Please follow and like us: