As multi-talented musician Houston, Texas based artist, Emman-Pelumi awaits the release of "The Multigenre Artist", we take a closer look at the album "Won't Let Go". His ability to mix so many different genres of music together and make it all into something cohesive and catchy is phenomenal. I had listened to him before on Spotify, and this is definitely one of those records that you can play start-to-finish at a party and everyone dances along and has fun for the entire duration. It's a perfect mix of dance, some Pop and R&B vibes, as well as world music and Afrobeat flavors, all bathed in pulsating electro-beats. Emman-Pelumi really takes you for a ride through all different genres but it flows together so perfectly that you're transported from each track to the next, dancing along the entire way.
There aren't many producers that I'd feel comfortable putting on in basically any setting, but Emman-Pelumi is one of them. Because of his versatility, it's perfect for any time. If you know your way around a decent rhythm-based artist, Emman-Pelumi will eviscerate your musical palate in the best way possible.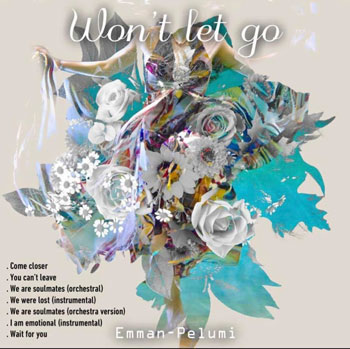 This is an incredible collection of unforgettable tracks that you simply cannot stop listening to, over and over. The album kicks off with some nice retro synths and pads on "I am Emotional", and never let's go from there onward.
The wonderful musical kaleidoscope continues with the vocal track "Selfish For Good" and then the exotic urban beat of "You Can't Leave" ft. Rafkiddo. "The New Her" has a light shimmering feel with perfectly timed percussive beats. The vocals on "Come Closer" are a smooth compliment to the seamless tropical-styled musical transitions.
It's a chilled-out track with simple yet meticulous grooves. The sweet soulful singing shines on "We Are Soulmates", and reaches its peak on "Wait For You", which is one of best tracks in the collection, and also forges a couple of rap verses.
"She Never Left" shows off all of its Afro rhythm with a fast paced beat and playful keyboard melody. Emman-Pelumi's signature style is clearly established from the outset here. The slower versions of "We Are Soulmates" and "You Can't Leave" invoke a sense of nostalgia, Emman-Pelumi is one of the few producers out there today with a retro sound he made up of out of his own.
The groove last the entire album and has an uplifting spirit that makes you want to smile and dance. It's music in its purist form, simple. It's easy to get lost between the rhythms and airy synths, and before you know it, the album is over. Now we'll just have to await the release of "The Multigenre Artist", to see where Emman-Pelumi will take his sound next.
OFFICIAL LINKS: WEBSITE – FACEBOOK – TWITTER – INSTAGRAM – YOUTUBE – APPLE MUSIC – SPOTIFY
Please follow and like us: