New York City-based music producer and film composer Electropoint (a.k.a. Roman Molino Dunn) who spent the last 10 years producing music for indie and Grammy-winning artists alike as well as composing for film, television, and commercials at Mirrortone Studios in Manhattan. He recently dropped the single "We Gave it All Away" featuring Virginia rapper DJ Mikealis, which is the fourth track in Electropoint's new series of collaborations featuring both domestic and foreign signed talent. The remaining singles in the set will be released at the rate of one song per month over the next few months.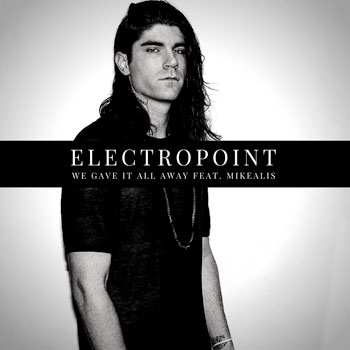 In today's world of DJ's/Producers becoming the new rock-stars, Electropoint has all the right credentials to be up front with the most popular and well known DJ's on planet Earth. His tracks – as is proven on "We Gave it All Away" – have the perfect formula. A banging beat, a melodic verse, a soaring chorus and tons of hooks to captivate listeners.
Electropoint is one of the new breed of producers, who steer away from the, by now, boring from four-to-the-floor beats, in exchange for crossover compatibility. Which in simple layman's terms mean that this track, with its blend of EDM and Hip hop flavors could comfortably sit on any Top40 chart worldwide.
Now we all know that if a dance track features a pop vocalist singing a melodic hook, it's almost automatically labeled as EDM, and then, often, mocked. That's because somewhere along the line, EDM becomes a dirty word for purists as soon as one of the genre's track's hit any popular chart.
So the question is, is it alright for Electropoint to play it safe and produce potential chart-topping hits that send audiences into a frenzy, or should he be pushing boundaries and challenging himself to innovate and move forward as an artist?
Well the answer is that he is actually doing both on "We Gave it All Away" ft. DJ Mikealis. Listen to the arrangement and analyze the mix, and you'll notice the subtleties in melody, rhythm, and harmony, Electropoint has worked into the track, as well as the elegantly smooth breakdowns and buildups.
This is cutting edge stuff that is both innovative and catchy. Add the fact that Electropoint uses a male singer/rapper, when the norm is usually the ethereal, sexy female vocalist. Now if this sparkling blend is supposedly a dirty word for EDM then I like to have dictionary's worth of these words, thanks!
OFFICIAL LINKS: WEBSITE – ITUNES – APPLE MUSIC – SPOTLIGHT – INSTAGRAM – TWITTER – FACEBOOK
Please follow and like us: