New York rap duo 4 Wheel City made up of Namel Norris and Ricardo Velasquez were both shot as young men and now rap from their wheelchairs. They've already played at the White House, appeared at VH1's Hip Hop Honors Awards, been nominated for awards and worked with Snoop Dogg. But as Velasquez points out, "we're the only act that has accomplished so much and not received a call from a record producer". Namel Norris, an avid basketball player and aspiring rapper, was accidentally shot by his cousin and paralyzed at the age of 17, while Ricardo Velasquez, is a paraplegic after being struck in the street by a stray bullet. When the two finally met – prompted by Norris' mother – instead of discussing their disabilities or their traumas, the two men started a conversation about the hip-hop business.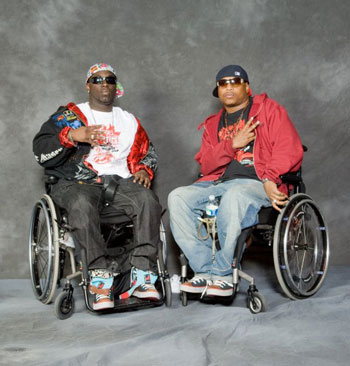 It wasn't long before they launched 4 Wheel Records, with Velasquez producing Norris as a solo artist, as well as the non-profit 4 Wheel City. Their mission: "guns down, four's up", illustrated by four fingers which stand for a pledge to "inspire, educate, advocate, and entertain".
Besides touring and making records, 4 Wheel City runs two core programs: Welcome 2 Reality, a school series in which Norris and Velasquez deliver motivational talks and rap montages to encourage teenagers to stay in school and away from guns; and Rap Therapy, which are inspirational and instructional hip-hop concerts at rehabilitation hospitals.
Mid last year 4 Wheel City dropped their 13 track mixtape entitled "God Bless America". And the first noticeable thing is how Namel Norris' flow forms part of the high-water mark of hip-hop lyricism. His delivery is captivating in its breathlessness; his timbre is attractively rough yet polished, in unison with the startlingly clever rhymes and imagery. The lyrics are all terrific, and the production, by Ricardo Velasquez, is right up there to make the gorgeous whole even greater than the sum of its parts.
In recent times fans have been labeling any above average album as a classic. Maybe our standards are slipping maybe we're so desperate to hear classic hip-hop we'll take anything that comes close, but at the same time, we have to be careful not to become so jaded, that we deny classic status to the works of magnificence that truly deserve it. With that in mind, it would be insane to deny "God Bless America" is a work of greatness.
"God Bless America" certainly has classic moments, starting with the title track – if I'm memorizing any flow on the mixtape I'll be starting with this one.  The high-level of lyrical quality though, holds up for much of the mixtape, as 4 Wheel City challenges the practice of the principles that first founded America, and the ones that now run it.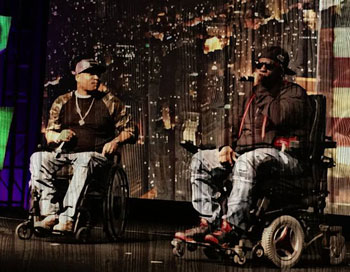 All throughout the mixtape, the duo challenges themselves to be better, taking on serious subject matter and taking the time to tackle it with dense, well thought-out raps that do the music justice. In between they drop some skits and interludes that meld the whole project together nicely.
Throughout "God Bless America", 4 Wheel City inspire listeners with the raw transformational power of mere words. Their penchant for cranking out true-to-life tales taken from incendiary social, political and cultural experiences leads to some memorable moments here.
Standout tracks abound with the likes of "State Of The Union", "The Sound Of The Policeman", "O.M.G." and "Mainstream".  There's no shortage of red-hot rage on the mixtape, as 4 Wheel City takes on America's capitalist and racist attitude and rails against the leaders who have failed the nation, while on the other hand paying tribute to Obama.
From beginning to end, it's an intellectually sizzling ride that embodies all the expressionism, biting commentary, and naked honesty about issues that should dominate any intelligent or caring person's daily conversations.

OFFICIAL LINKS: WEBSITE – FACEBOOK – TWITTER – INSTAGRAM – ITUNES – SPOTIFY
Please follow and like us: