Baltimore rock guitar ace EH, bounces back from a series of stunning single releases with his brand new track "Wrathchild", which is a cover of the Iron Maiden classic. Not being one for any half measures, the guitarist brought some fantastic talent onto the track. The former LA Guns vocalist, Scott Foster Harris, who also featured on the "Fierce" single, is back on the mic. Jason Hartless, best known for his work with Ted Nugent and Pop Evil, handles drumming duties, while German-born session musician Martin Motnik, a member of the metal band Accept, takes care of the bass work. I could stop this article right here, right now. As that is more than enough information to understand the technical quality, these musicians bring to the table.
Despite pulling from a collective pool of incredibly well known influences, including of course the original players of this song, EH and his formidable crew's sound is uniquely their own. EH has ensured the sound of "Wrathchild" stays relevant while still sticking firmly to the song's roots and playing it in the way he knows best.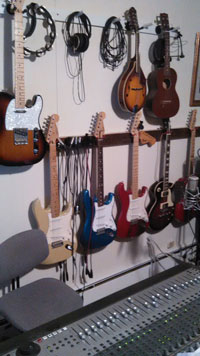 "Wrathchild" is about an angry young man born from a whore and searching for his unknown father, presumably with violent intentions: "My mother was a queen, my dad I've never seen, I was never meant to be. Now I spend my time looking all around, for a man that is now where to be found." That irate and urgent sentiment runs throughout the arrangement, both vocally and musically. EH and his collaborators capture that vibe perfectly.
The momentum of the song is driven, running alongside Martin Motnik's rolling basslines that create an explosive impact. His riffs and slick flourishes bring some superlative moments. On the other end, Scott Foster Harris' vocals sound effortless. Whether intensely yelled or cleanly sung, they flow seamlessly throughout the song. Jason Hartless' spectacular dynamic drumming adds an air of grandiosity to a song that is propulsive and ferocious in every aspect.
As can be expected, EH's guitar work is amazing, while he sticks close to the template. Considering he is shadowing Adrian Smith and Dave Murray, that's a massive responsibility. However, with the caliber of his playing, EH's interpretation is off the scale as he pours out a plethora of awesome riffs, blistering solos and powerhouse rhythms. This is seasoned musician shooting to do something a little nostalgic, and bringing it into the modern era.
Remarkably, "Wrathchild" is a record that's up-to-date and certainly relevant in the modern metal world, considering it was first released in 1981 on the album, "Killers" by Iron Maiden. This is partially down to the production, which is as clear and muscular as you'd want. Additionally, though, the music feels just right, walking the fine line between rose-tinted nostalgia and befitting of the here and now.
The playing is clean, precise, and engaging, the chorus is a monster, and the leads, trade-offs, and embellishments between the instruments just hit the right spot. Nothing is overdone, or extraneous, in regards to the original. It feels like EH and his musical cohorts had a good time putting this all together. That much shines through in a palpable sense across "Wrathchild".
OFFICIAL LINKS:
https://www.youtube.com/channel/UC3SGUAzoH9yeT97GuEYHmYQ
https://open.spotify.com/artist/65sDpjk14Zmv7vLbA0tcXV?si=piQKVl7OR3CEZrvah8gutA
https://ehrocks.bandcamp.com/
https://www.n1m.com/eh
https://music.apple.com/us/artist/eh/419464235
https://my-store-ehrocks.creator-spring.com/
Please follow and like us: