Drew Harris is a 22 year old musician who spent the last 8 years of his life playing a variety instruments and touring with different bands. After his last group disbanded Drew decided to do it all on his own. "Resolve" is his debut solo EP which he wrote, recorded and produced. On it he plays all instruments, including drums, bass, guitar, piano, brass, and organ, as well as handling vocals, and produced the entire thing himself. Drew says that the album is his soul in audio form.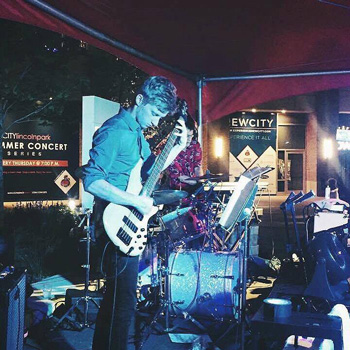 The EP shows an artist comfortable with himself and unafraid to show his artistic colors. Drew tackles increasingly varied subject matter and solidifies that he's a top notch melodic rock vocalist, showcasing his singing to a great extent. He pours his emotion into each and every track.
The drums add complex, syncopated patterns with powerful bass fills while Drew matches that with interesting, hard charging riffs, which translates into a sound that incorporates nu-metal, alternative rock and just a dash of emo.
With "Resolve", Drew Harris proves that he is more than just some chaotic, anarchistic rock project that are just like all the others. Apart from infusing these 5 tracks with sparklingly complex arrangements and powerful melodies, he also forges a series of layered harmonies to give each track a rich and fully fleshed out sound.  The tracks feature a multitude of textures, rhythms, tempo and a variety in dynamics.
Drew Harris reaches a whole other level of creativity and originality in an eclectic offering. It is different and unexpected beyond your expectations for 22 year old artist on his solo debut. The music speaks for itself as the heavy hitting drums leveled by the flawless guitar skills and soaring vocals take control.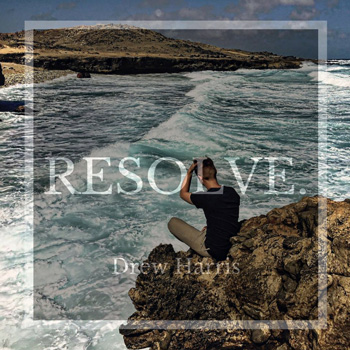 Both vigorous and varied, the rhythm section serves a set of powerful lyrics. Drew does rarely stay in the same range on the vocals throughout the songs. He leaves his comfort zone and delivers a mix of styles to tell stories that will resonate with you.  His singing is very nuanced, high and roaring.
The instrumentals create an atmosphere of curiosity that grips you from the beginning of the album. You'll be psyched by his way of turning his solo musical identity into something more grandiose and totally different. "Glass Eyes" is a striking example. Tracks like "Imaginary Enemies" and "Unconscious Flashbacks" are fierce, life power anthems.
The best tunes if you're feeling down. The music carries out admirably the spirit of lyrics. The title track "Resolve", reveals how much uniqueness and power there is in Drew's voice. It's also got a killer thunderous drum attack accented by riffs and bass lines to die for. All the sections enter in symbiosis to create an intoxicating tune.
"21 Grams" is another instant, 'sweeter' sounding anthem. There can be no doubt that Drew Harris opens the flood gates of his new solo career with "Resolve". He has shaped his sound into a stream of passion, a storm that carries you where he wishes!
OFFICIAL LINKS: ITUNES – SOUNDCLOUD – SPOTIFY – BANDCAMP – YOUTUBE – TUMBLR – INSTAGRAM – TWITTER – FACEBOOK
Please follow and like us: