Boston rock artist Carissa Johnson started out in a punk band in 2010 called Left Hand Blue, but left in 2014 to pursue her own project after joining various local bands as a bassist. Her debut release, "For Now" won Album of the Year 2016 by Limelight Magazine and her band was nominated for Best Punk Act by the Worcester Music Awards. Backed by drummer Nick Hall and guitarist Steph Curran, Carissa periodically plays shows throughout the USA, promoting her sophomore album "Only Roses". The entire album from track one to eleven is utmost power driven pop-punk and rock music that bears many comparisons that continue to go through this listener's head even at the last spin of the final track.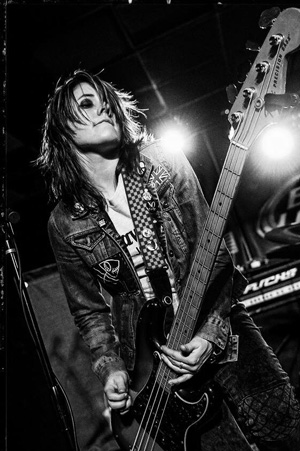 From the rock to pop-punk sounds that resonate with some of the classic sounds of the 1980s and 1990s, the album is sure to please. The producers Doug Batchelder and Carissa Johnson obviously also play an enormous part to the sounds heard on the record.
This album unveils the infectious vocals and solid bass playing of Carissa as well as the musicianship of drummer Nick Hall and guitarist Steph Curran. Carissa Johnson packs a phrase, note, or vocal inflection from a hundred different other recordings into almost every track. She sounds totally fresh and original, because she has absorbed her musical roots, and turned it into her own creations, every song is like e living in multiple alternate musical universes at the same time.
Carissa Johnson transcends the punk genre with subtle stylings full of energy, vibrancy, emotion, and virtuosity. Right from get go, on "The Fool", she loads her songs with lots of crunchy riffs, tons of melody and soaring anthemic choruses. She brings every song to life with expression and feeling. Pounding drums and attitude abound on the title track "Only Roses" and "Deleria".
But it's with the fifth track, "Fuel Heart" where Carissa kicks into high gear. The song carries the trademark stomp of classic punk-rock. "Seven" and "Wound" are heavier riff rockers while the foot-stomping and hand-clapping style of "These Are The Best Days" will hold your attention.
And if you're looking for any kind of reprise from the high energy momentum of this album you won't find it here, unless of course you want to call the mid-tempo, acoustic-guitar driven album closer, "Better From Here" such.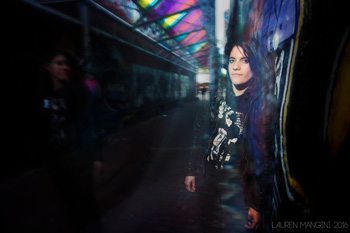 Carissa Johnson is a talented lady. She writes songs, performs them with wild abandon, and if you are lucky enough to be in the audience, you will be captivated by her intense gaze. Between her resonating vocals, and her tenacious bass guitar tones which are lean, mean, and tight, she does not disappoint.
There is no filler on "Only Roses". This is a difficult achievement in today's music industry, where singles are slowly bled out to the iTunes-infatuated public while the artists releasing them frantically write and record more material to catch up to the fame they haven't earned yet.
Carissa Johnson deals with her music the way most female artists don't; by being real, relatable, and giving the audience a kick-ass crunchy sound. The album grabs you through the speakers and doesn't let you go till it's done with you. It gives you what you came for!
OFFICIAL LINKS: WEBSITE – FACEBOOK – INSTAGRAM – YOUTUBE – TWITTER
Please follow and like us: