Ex-Sony Music, Spanish-born DJ and Producer Kramnik, returns with a handful of live session musicians that provide guitars, harmonicas, trumpet solos, and  himself on drums, under a new alter-ego called Mooji. Kramnik first began making waves as a producer in electronic music in 2012 with his much-lauded debut album: 'Dark Matters'. His fine-tuned ability to craft and execute an emotive sonic journey, garnered praise from the producer's bible 'Future Music', who described Kramnik as 'one of the most distinctive artists of the year, with a unique and unaffected sound. A truly singular artist, Kramnik could well be bending our minds for years and decades to come.'
For his latest groundbreaking album – "Double Agent", Mooji moved to the artistic vibrancy of Berlin and took his music back to basics with a heavy mix of songwriting, improvisation and live instrumentation. "I wanted to make music that could be enjoyed beyond the dance floor, something that could be shared with others," says Mooji of the new album. "Double Agent" really floats in a genre all of its own making; somewhere in the rainbow between alternative, ambient, blues, electro, rock, psychedelic and triphop music. But don't just take my word for it, listen to it. The album also features vocal cuts by the legendary John Lee Hooker, Muddy Waters or  Lee 'Scratch' Perry, as well as a remix of Leadbelly's 'Roberta', a classic blues ballad from 1935, to further add some organic authenticity.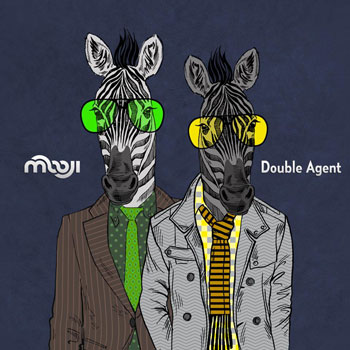 "Double Agent" is an album that comes along maybe once every few years. One of the fantastic things about this album is how each track morphs into something quite different than the beginning. Mooji gets you comfortable with incredible soundscapes and samples, and then twists and transforms them into something completely different to what you are expecting. Once you can get past the sheer detail and creativeness of these sounds, you'll start noticing what these sounds are doing together and to each other, making some of the most fantastic electronic-induced music you've heard come out of your player in years.
Friends of the electro revolution, prepare to experience the majesty that is Mooji, on tracks such as the swampy album-opener "Boson Booze", the washboard-bluesy sound of "How Long (Leadbelly remix)", and the dark, turbulent electronica of "Don't", the tripped-out "Foggy Waters", the foot-stomping, funky "Romantic Kazoo", or the acidy "Psilo Symphony". Quite simply, these tunes will turn your world upside down.
You can tell that much care and attention has gone into this collection of songs. Each passage, sound and section is stunningly crafted, with new discoveries emerging on each subsequent listen. I'm amazed at how Mooji can blend so many textures, layers and sounds yet keep each one sounding crisp and clear. Completely uncluttered, "Double Agent" is technically outstanding and sonically way ahead of its game. There are few other musical artists out there who indeed, sound like no one else. And no matter how hard you look you'll be hard pressed to find a comparison to Mooji. He is unique.
OFFICIAL LINKS: WEBSITE – FACEBOOK – TWITTER
Please follow and like us: