Hailing straight from the streets of the Bronx, NY, Davv-O $tacks has been wielding the magic of music for over a decade, with a will to leave an indelible mark. This sensational artist takes us on an emotional rollercoaster through his latest EP, "NATA$", which is a mesmerizing journey you won't want to miss. Davv-O $tacks, with an unwavering commitment to his craft, has never shied away from collaboration and camaraderie. From his very first music videos, where he roped in his high school classmates to share in his musical dreams, to this day, he remains open to weaving his love for music with anyone willing to join, be it for the sheer thrill or to share it with the world on a massive platform.
With versatility being his middle name, Davv-O $tacks effortlessly sways between alternative, hip-hop, and R&B flavors, crafting emotional pop masterpieces that tug at your heartstrings. His songs embody dynamic instrumentals, vocals that grip your soul, mind-blowing melodies, and storytelling that oozes pure passion. All these elements beautifully intertwine in his latest EP, "NATA$", featuring three mesmerizing tracks and a bonus gem.
With a penchant for raw, heartfelt lyrics and irresistible melodies, Davv-O $tacks opens "NATA$" with the emotional slow-burning anthem, "Lonely." This stirring track delves into the depths of human vulnerability, exploring the trials and tribulations that often leave us feeling isolated and adrift. But fear not, for Davv-O $tacks' soul-clenching vocal performance and dynamic instrumentals serve as a guiding light, reminding us that we're not alone on this tumultuous journey called life.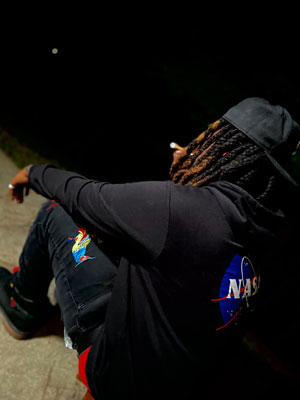 "Indoctrinate," the following gem produced by the brilliant Delusion, traces Davv-O $tacks' personal transitions and challenges, especially since the loss of his father. It's a heartfelt ode to growth, resilience, and embracing change. As he bares his soul through each line, Davv-O $tacks crafts a musical narrative that is poignant and relatable, striking a chord with listeners on a deeply emotional level.
Amidst the breathtaking tracks lies "Numb," riding on an infectious piano motif and skittering percussion. Davv-O $tacks mesmerizes with his ability to convey his innermost emotions through his lyrics. The opening lines, "I'm so numb to all this shit nigga. I feel no pain," launches another reflective journey through the highs and lows of life, a testament to his prowess as a master storyteller and a musician who captivates effortlessly.
The bonus track, "Working," boasts a shimmering guitar groove and a pulsating drumbeat that'll have you moving and grooving in no time. Davv-O $tacks takes a confident leap forward, exuding lyrical bravado and swagger, leaving no doubt that he's here to conquer the airwaves with his unparalleled artistry, and shake some booty along the way.
What truly sets Davv-O $tacks apart is his innate ability to connect with audiences on a profound level. With "NATA$," he has honed his craft to perfection, shining like a polished gem in every track. Each song takes a captivating route, making it irresistible to turn away, and his ability to express emotions so clearly and relatably makes him a master of storytelling through music.
The sleek production work on the EP elevates the tracks to even greater heights, proving that Davv-O $tacks is a force to be reckoned with in the realm of melodic hip-hop and pop. Despite being in the game for a decade, he effortlessly embodies the new wave of alternative pop artists who effortlessly blend singing and rapping, embodying the current sound with remarkable finesse.
So, buckle up for an extraordinary experience as you embark on the musical odyssey that is "NATA$." Davv-O $tacks has unleashed an EP that brims with soul-clenching performances, irresistible melodies, and a genuine passion for music that pierces through your soul. Polished as a diamond and as emotionally charged as a thunderstorm, he's here to stay.
OFFICIAL LINKS:
Twitter: https://twitter.com/YoursTrulyDOS
Instagram: https://www.instagram.com/yourstrulydos/
Tiktok: https://www.tiktok.com/@yourstrulydos
Twitch: https://www.twitch.tv/YoursTrulyDOS
Tumblr: https://www.tumblr.com/yourstrulydos
YouTube: https://www.youtube.com/@YoursTrulyDOS/videos
Website: https://fanlink.to/YoursTrulyDOS
Please follow and like us: