David Dixon the, Wilmington, NC-based singer, songwriter and guitarist who studied guitar performance and songwriting at the acclaimed Berklee College of Music in Boston has released his self-titled 10 track album, mastered by Grammy Award-winner, Brian Lucey (the Black Keys, Ray Lamontagne, Beck). David who also plays violin, bass, piano and mandolin, has performed in South Korea multiple times, as well as in the Dominican Republic, the Bahamas, and all over the United States.
David Dixon makes albums that pretty much no one else could or would do today. He has an amazing ability to put together a collection of songs that can both surprise and please; artistic yet somehow just commercially accessible enough to have a broader appeal. It's as if he knows that he has a core group to serve but will also stretch the boundaries somewhat. The emphasis seems to be toward a wider rock sound, solidly injected with soul and blues that are punctuated with plenty of driving guitars and punchy horns.
A master at work, David knows how to use his considerable skills to serve the music rather than just grandstand. Though great playing is everywhere and the arrangements are organically full and beautifully layered. I could hardly think of any other sounds to add anywhere on this recording. Also, the presence of a superb backing band does what it ultimately should do. That is, bring in some fresh shades and textures while not just filling space. The current core line-up is David Dixon (guitar, vocals), Logan Watson (drums), and Riley Kearns (bass). I'm always hoping that music likes this will find an ever widening audience.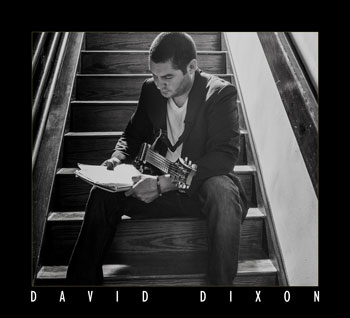 There's a broad range of music on this record – but if I were to put it in a nutshell, it's very uplifting, it's fun, and it's got great energy. The rhythm section is really strong. You really get to hear and feel the drums and bass, but then there is all beautiful color added by the arrangements and production.  The grain of David's voice establishes a seamless connection between Southern Soul, Rhythm & Blues, and full on American Rock – and will captivate any mainstream pop ear along the way.
And when the first track "Sway" kicks in with its heavy guitar riff, you know that you are in for a varied set of carefully crafted, dynamic, and highly original arrangements. His ability, balanced by his instrumental talent, David makes it look too easy as he cruises through the upbeat horn-filled beats of "Forget Tonight" and "Even Steven". "Love/Hate" is perfectly light-weighted and radio ready enough for mass appeal, while "Wrong Way" is exactly the type of swampy-blues sound that feeds my appetite – a slow-burning rhythm, an insistent melody and lead vocal, a picked acoustic guitar and epic backing vocals will mesmerize even the hardest of hearing. This for me is the turning point of the album as David and the band seem to kick into high gear.
"Seven Years" maintains on the soul-stirring legacy of the previous track, kicking up the tempo a notch, as does "Black Heart", but it is the heart-pumping instrumental "Jimbos" which has my pulse racing to its highest point. All of David's playing genius comes to the fore here. How? He keeps his tone so simple and never plays more than he has to. How many guitarists could resist some six-string soloing heroics, on a sparkling, funky blues rhythm this inviting? Probably only a handful, and now I know that David is one of them.  This song is all about riff, rhythm and groove, and my only gripe is it just doesn't last long enough!
At just to savor how his talents move at 360°, check out the reggae rhythms of "Stay", where David's soaring vocals and his fiery guitar solo, wrapped up in clean tonal quality and textured sound will thrill you. The album closes with the Americana-styled ballad, "On Another Day", just to bring your pulse-rate back to normal. No doubt David Dixon's self-titled album has a great collection of songs displaying a mature and focused sound. The result is distinctive. This one will be on high rotation for me for quite a while yet!
OFFICIAL LINKS: WEBSITE – FACEBOOK – TWITTER – ITUNES – SOUNDCLOUD
Please follow and like us: