Dave Panico – considered "One of the Best" by US Smooth Jazz – is considered to be a 'saxophonist extraordinaire' by his fans. Dave cites a fascinating array of jazz legends and contemporary greats as having an impact on his work; however Dave's first musical influence was his father. Dave adds, "My parents had a great collection of 1940's big band recordings on 78's I would listen to over and over. Glen Miller, Benny Goodman, Louis Armstrong."  He also listened to Spyro Gyra, Tower Of Power, Earth Wind And Fire, Chuck Mangione, Return To Forever and others during his late teens years, along with metal and classic rock.
Dave Panico who received the Instrumental Artist of the Year Award, both at the 2015 King Cat Music Awards and the 2007 Kansas City Christian Music Awards, has released his third album, entitled. The title of the album is "Tasty Treat" and the music that plays is exactly that. From the first catchy notes of Break'N Free to the last notes of Funky Monkey , the music does not let you go until it's over. But by then, you can't wait to start over again. All the selections are outstanding but there are personal favorites. The stand out selections for me are Tasty Treat , SoaringSax Blues , Just Like That , The Search , Get Up And Walk  and of course, On Wings Of An Angel . I could listen to these selections over and over again.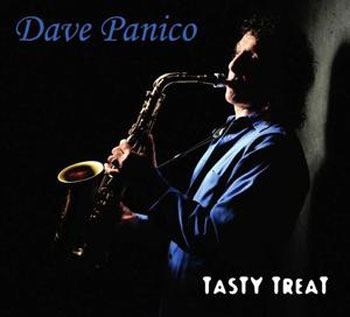 I am glad that Dave remained independent so he could follow his dream of making the kind of music that he wants to record instead of being told what to record. He has more freedom in writing music that sounds good and it shows how much he has grown musically over the years. "Tasty Treat" is pretty inventive, and it melds the sax with a variety of rhythms and styles very well. It has mostly up-tempo tracks with very engaging melodies, catchy hooks and glossy production that really enhance the songs. Regardless whether the tune is mellow or funky to the hilt, Dave Panico always gives the music his all. There's something simplistic in a very good way about Dave's style. He's smooth, he's sincere and he's complete. All throughout the album, Dave is at his robust, funky best and his supporting cast is top-notch too.
The words 'control, lyricism and splendor' speak out of this work; a delightful album, where Dave Panico's versatility shines through. Dave's sax just melts in your mouth and heart. His smooth tone leads exactly where the music has to go. Not perhaps music for the die-hard avant-garde lovers, but more for the instrumental adult-contemporary aficionado, "Tasty Treat" is in its own way a veritable wall of luxurious, wonderful sounds and rhythms. Sometimes an album title is an album title – nothing more. Same goes with cover art. But somehow both the title and the cover art here truly express the overall flavor of the music you'll hear on this album.
OFFICIAL LINKS: WEBSITE – FACEBOOK – TWITTER – YOUTUBE – SHOP
Please follow and like us: