UK artist, Chris Davidson, was originally signed by Jim Beach, the manager of Queen. Chris who has albums, "Hey You", "Hopelessly Madly", and "The Girl From Perkins Grove", as well as various critically acclaimed singles in his catalog, collaborates with American lyricist Charles Ortleb.
Recently the two co-wrote and released the single "Song for Jann Wenner", which was inspired by all the rock legends filling the pages of Rolling Stone magazine with their passing away. The song seeks to both mourn and celebrate at the same time.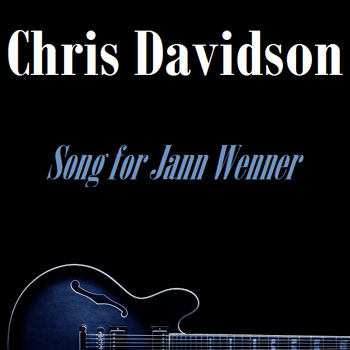 I had never heard of the Chris Davidson before hearing "Song for Jann Wenner" for the first time the other day. So I quickly dug into his other works to better understand what was going on, artistically speaking. I was instantly captivated by the soaring vocals, lush harmonies and orchestrations, and sterling production.
I found plenty of pop-orientated, potential hit singles reminiscent of sounds that go from today all the way back to the mid-1970's and perhaps even earlier, on the occasion. The range of music on Davidson's recordings is simply astonishing, while the pristine production values help the songs flow together and enhance the overall listening experience.
Davidson's neo-psychedelic type pop masterworks are even more rewarding in the long run than the short. So the more you listen, the more you'll enjoy.
"Song for Jann Wenner" is like 5 minutes of listening to a blend of Roy Orbison, The Beatles, The Beach Boys and the Flaming Lips, all rolled into one. The track is upbeat, beautiful, desperate, hopeless, hopeful, lost and constantly searching. This song is a tribute to the greats that reaches into your heart and holds it from beginning to end.
Awash in a beautiful airy effects-laden atmosphere, the track is gloriously cohesive in an 'Abbey-Road-Studio-sounding', sort of way – a triumph of sheer sonic perfection for this specific genre.  There is so much warmth and truth buried in this recording to describe in a silly review.
The best thing would be to get lost in the warmth of its sound, and be overwhelmed by the song's likeness to the classic pop hits of the past. In a word, "Song for Jann Wenner" by Chris Davidson, is – timeless!
"Song for Jann Wenner" is available on iTunes, Spotify, Apple Music, AmazonMP3, and all major streaming services.
OFFICIAL LINKS: WEBSITE – TWITTER – YOUTUBE
Please follow and like us: