I was curious about "Came To Collect" by Stray Louis (Produced by Tidus), because whenever I read 'Dark' or 'Experimental' Hip-hop, I'm keen to hear just where the music will be going. I streamed the track and was not disappointed in the least. If you like intricate production, intense music, and a healthy dollop of sinister atmospheres, this is for you. Stray Louis lives in his own universe, but one that is mysterious and filled with dark sounds and interesting words. This is an egg I am having fun cracking.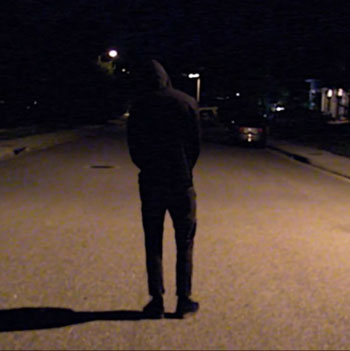 When I first put "Came To Collect" into rotation, I sat around, not quite hooking quickly, but by the second full listen it struck me hard. This track is almost completely unlike anything out there in the hip hop spectrum right now. There have been plenty of rap artists in the last fifteen or twenty years years that have tried to experiment with their sound as much as possible while still keeping all the elements of a good hip-hop song intact.
MF DOOM, Madvillain, Outkast, and J Dilla are a few that were good at fitting all kinds of strange samples and rhythmic left turns into their songs while still maintaining what makes people listen to hip-hop in the first place, great beats and killer verses over top of them. But, Stray Louis and in particular Producer Tidus' experiments differ from those by other artists partly because they are making music in a different time, and they have the advantage of perspective.
Abstract metaphors mixed with idiosyncratic flows and soliloquys roam throughout the track, as Stray Louis flows over a generously slowed-down beat, inducing a decidedly malevolent ambience. To be perfectly honest, I have listened to this song at least 10-15 times and I still can't fully grasp what is going on, but with every listen I gained new perspectives about the song's lyrics and also newfound appreciation for the production. It is impossible to grasp all the little nuances stored within this track for the first couple of listens, however I can guarantee that Stray Louis is 100% original. If you love dark, experimental music with expert lyricism than I highly recommend to check this project out!
OFFICIAL LINKS: SOUNDCLOUD – TWITTER
Please follow and like us: