London alt rock three-piece By Starlight who formed just over a year ago, released their debut single "So Desperate" the 23rd September. The new single is lifted from the EP entitled "Debut". The band is led by led by singer-bassist and principal songwriter Sara Murray, and is completed by Martino AL (guitars, vocals) and Ivo Sotirov (Drums). By Starlight is produced by Paul Corkett whose credentials include The Cure and Placebo.
I am genuinely surprised by how much I like this band. I have been listening to music seriously for… well longer than I can remeber and I have seen a lot of bands hyped to bits on their debut only to vanish again quickly for lack of real substance. I was therefore skeptical about By Starlight when I read their promo and saw the attention they have received, but I was wrong.
Together with Paul Corkett, they have produced an exceptionally good debut EP and I think they have the talent to last for a long time. I suspect we will be seeing a lot more really good stuff from this band, and I'm looking forward to seeing how By Starlight will develop because they may well become something really big.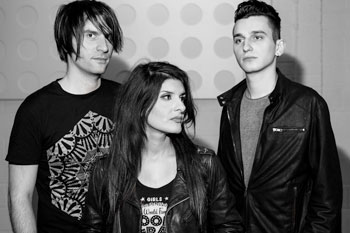 In this digital age where everyone with a laptop is a recording artist, the single "So Desperate" (as well as the EP) is a breath of fresh air. It's been a while since a band has come along that simply rocks. They don't have to be over-technical, gut-busting brutal, whizz-kid electronic or dementedly avant-garde.
This track works, not only because of catchy songwriting and great guitar riffs, but simply because it rocks. That is something that's severely lacking in today's mainstream music. This is a band with a very clear and advanced understanding of their music, and that's no mean feat, considering it takes most artists many years before they're able to play to their strengths.
By Starlight already sounds polished and confident, yet there is underlying raw dynamic in their music that hits you at gut level. Part of the answer lies is in those guitar riffs that Martino AL so consistently delivers. They're not just crunchy and intense but absolutely melodic to the point of being totally irresistible.
The best examples of his prowess you will discover on the tracks, "Run Away" and "The Reason", which for me is the strongest track on the EP and would have been my personal single choice. The other factor obviously is Sara Murray whose 'sweet and ethereal' voice plays off beautifully against the harshness of overdriven guitar sounds.
None of this would of course be possible without a pair of rock steady arms to hold all of this creativity together. And Ivo Sotirov is just the man for the job. No frills no fuss, Ivo beats a straight ahead path to keeping the rhythms continuously on the boil.
"So Desperate" has a lush, layered soundscape, thoughtful lyrics, plenty of hard bite, as well as melody, sounds perfect to me!
OFFICIAL LINKS: WEBSITE – FACEBOOK – TWITTER – SOUNDCLOUD
Please follow and like us: