Borg Queen originally started out as a form of art therapy when Jenny Kirby, an alcoholic stripper turned musician needed a pet project to keep her sober. Originally, Jenny set out to do a compilation of paintings based on her experiences as stripper and called it "Sex, Drugs & Shiny Brass Poles". As the paint spread across the canvas Jenny found herself inspired to write a song for each painting thus merging her musical and visual art talents into a multidisciplinary art project. The 10 track album is a mature project. Dark, smart, aggressive, delicate, passionate and melodic – there are so many different sounds and vibes on this album it's hard to grasp it all in one sitting.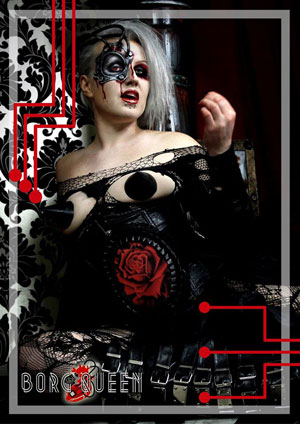 Profound lyrics, electronic sequences, earthquake drums against menacing strings, thumping bass, and alluring whispers, the list goes on and on and on and on. Calling this album Goth, Industrial or Electronic Rock is a slap in the face. It's so much more cerebral, organic, and dare I say psychedelic than anything on the market right now.
The liner notes precisely describe the album theme as: "A dark yet enlightening journey in to the deepest recesses of the human psyche through the eyes of a stripper." If that alone doesn't raise your eyebrow or curiosity, then what does?
"Sex, Drugs & Shiny Brass Poles" manages to be beautiful, sensual, aggressive and scary at the same time. While albums nowadays tend to have at least a few filler tracks, I can't really think of a single song on here that I outright dislike or would want removed from the track list.
This album is also great if you love mood inducing music. Though this will get you into a dark one.  There aren't a lot of mainstream "radio ready" cuts on here, a product of Borg Queen's own expert craftsmanship and obvious mental state during the production process.
There are highly engrossing textures and melodic pieces that are often times absolutely entrancing, and transition very smoothly from one to the next. There are quite a few instrumental passages to be found in the songs, which are definite album highlights and proves Borg Queen's instrumental prowess over and above her vocal skills.
The album also has a powerful cinematic quality to it, which probably has to do with the Borg Queen's creative process moving between visual material, in the form of paintings, and auditory content, in the form of songs.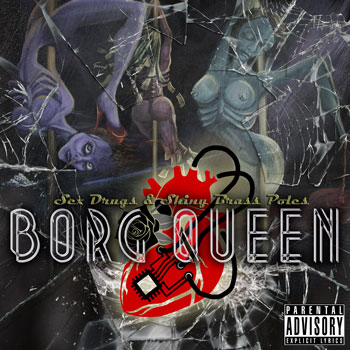 Moreover she sounds like an artist free of any unnecessary expectations, from herself on any outside sources. It sounds like Borg Queen working in the studio like no one is watching, shouting to herself and punching a whole gamut of synthesizers, which is why perhaps this is such a creative body of work.
From the second "This is Real" kicks off the album, you realize it doesn't even matter if you're not into industrial, alternative or electronic music because "Sex, Drugs & Shiny Brass Poles" really can't be classified or labeled, in such a limiting way. It's just amazingly composed, brooding, haunting music which takes you into another level of consciousness.
Borg Queen has an uncanny ability for melody and you will hear a recurring theme throughout. It doesn't matter if the song is slow and quiet or hardcore and loud, with bone-crushing riffs, such as the title track. It really is crazy, twisted effects-filled vocals and sledgehammer distortion aren't supposed to be beautiful but Borg Queen somehow manages to pull it off.
The best is that some songs are really, really catchy, like "Little Miss Liquid Courage", "My Resurrection", "Lapdance Romance" and "We're All Whores". Hooks abound, the music flows, and the intensity inscribes the songs on your skull. It's one of the most pleasant sensations you'll ever experience.
Borg Queen has a flair for delivering incredibly composed pieces that run the spectrum of human emotions and sounds.  This journey of musical brilliance and lyrical depth will reach inside of you and touch the cracked, fragile, and broken parts hidden within your soul.
OFFICIAL LINKS: WEBSITE – STORE – FACEBOOK – YOUTUBE – INSTAGRAM – SOUNDCLOUD – TWITTER – GOOGLE+ – PINTEREST – TUMBLR
Please follow and like us: