ARA the ARCHITECT doesn't compose catchy melodies that are arranged and produced to fit a trademarked style. Rather than comforting hooks and refrains, her music seems instead to almost explode forth from her chromosomes, creating an aural pastiche that washes over you. One would be hard-pressed to compare her to another artist working today. "Dirty Money" is a somewhat challenging track that begs to connect to the listener on a different level than a mass audience of radio trained ears may be conditioned to expect.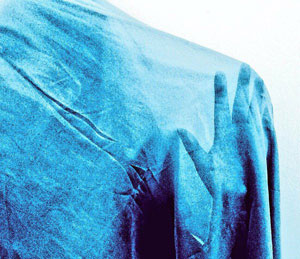 ARA the ARCHITECT would be worth a listen just for her innovation alone. Her musical experimentation vocally, visually, and instrumentally all are intriguing. However, her beautifully lyrical voice, overall musicality and stunning lyrics all put her in a class of her own. There is a sense of magic in all she does, by which I mean fanciful flights of delightful sonic surprise. She weaves computer technology, screaming electric guitars and haunting beauty into her music in contrasting ways. Yes, she writes and sings songs, and plays keyboards and guitar too. But unlike most of her musical peers, she also has studio skills.
ARA the ARCHITECT leaves no stone unturned in precisely engineering every sound on "Dirty Money", to a detail that most of us cannot imagine.  She opens up her soul and an amazing landscape of work pours out. In the song ARA expresses herself in a passionate and beautiful mini symphony that requires full attention. The mix of electronica and rock leanings found on the track blends together well with the lush and distinctive vocals and harmonies. From the lyrics to the perfect orchestration, this track cannot be played as background music.
"Dirty Money" is quite simply, a journey. It's woven like a beautiful tapestry, and just when you think the track is simple and sweet, it breaks out and slams you with a chorus that makes you feel as if you're standing at the top of the highest mountain, singing with every ounce of power your lungs can muster towards the glorious awes of living. The track is intoxicating and a good example of how ARA the ARCHITECT uses her voice like a musical instrument. She bares her soul but remains in full command of her emotions, displaying both an unrelenting urgency and a beautiful vulnerability. I can't wait until she releases an album!
OFFICIAL LINKS: SOUNDCLOUD – TWITTER
Please follow and like us: