The Noise has been an established 4 piece live act, founded and fronted by vocalist Josephine Ellul, since 2011. They were joined on bass/vocals by Richard Murray in 2014 and the pair also began writing, recording and performing as a duo. Outside of their cover-based live act, Josephine and Richard found a love of performing and creating country and folk influenced songs. "Shadowplay" is a small collection of their work written and recorded as a side project over several years.
Josephine and Richard provide the best example of crossover Americana music and this 4-track EP is a treat. Like everything they do, it's very well-crafted, earthy, with a dash of wit and sadness. The rhythms are both subtle and powerful at the same time. The vocals are honest and the lyrics are timeless. It's trippy and dreamy and earthy. The harmonies and acoustic guitars are nothing short of heavenly. From beginning to end, this record drips class, talent and truth.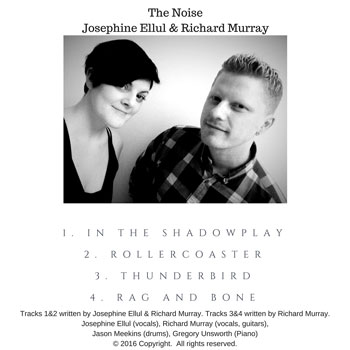 I rely heavily on first impressions; if I'm not intrigued from the very first listen, whether or not I played samples or the songs in full, I'll pass on doing a review. But after listening to the opening track, "In The Shadowplay", I just had to dive into the rest. "Thunderbird" had me bumping my head, clapping my hands, and stomping my feet. Its upbeat sound and fiery singing compliments the raw lyrics. What I had no idea about is that the group alternates on lead vocals. And I think that the energetic nature of this track resounds even more with Richard Murray upfront.
Those twanging guitar strings at the start of "Rollercoaster" captured my attention before the track kicked off, and by the time Josephine Ellul started singing in that laid back, smoky, no cares in the world tone, I was completely drawn in. The sultry and soulful "Rag and Bone" is the vocal highlight of the entire EP, portraying pure and passionate harmonizing and flawless singing. Whether you fall in love with the truth of the lyrics or the acoustic piano sounds, it's a song you have to agree has a life of its own.
Strangely enough, though there's nothing groundbreaking or earthshaking here, there is just something so captivating about The Noise, and it really comes shining through in "Shadowplay". There is not a bad song in the bunch and just shows their diversity and ability to entertain from the first moment to the last. The Noise's creativity and professionalism makes any type of song great: fast, slow, they can do it all and make you want to listen to it over and over again! I look forward to hearing a full-length album in the near future, as I already know that it will be a winner.
Song Credits:
"In the Shadowplay" – written by Josephine Ellul & Richard Murray
"Rollercoaster" – written by Josephine Ellul and Richard Murray
"Thunderbird" – written by Richard Murray
"Rag and Bone" – written by Richard Murray

Music Credits:
Josephine Ellul (Vocals), Richard Murray (Vocals, Guitars, Bass & Percussion), Jason Meekins (Drums), Gregory Unsworth (Drums).
OFFICIAL LINKS: CDBABY – SOUNDCLOUD – FACEBOOK
Please follow and like us: