PressPlayK, Illinois-born Kevis Jerrell, reinvents R&B, transforming emotions into an expressive rhythmic sound through a debut new soulful album, 'Virgo'. The record Virgo released on May 7, 2021, is the first official album from the artist following his other singles, Cake and Sleep, released earlier in the year. 'Virgo' is an eight (8) track album resonating a message of healing and heart, telling a true story of love. The arrangement is purely divine consisting of tracks that flow in sync and brings peace and a sense of raw emotions to the ears of listeners. The track list includes love songs like 'Can't Fake How I love you', 'Shooting My Shot', and 'Forever', which speaks of the journey of love through an electric soothing sound on each track.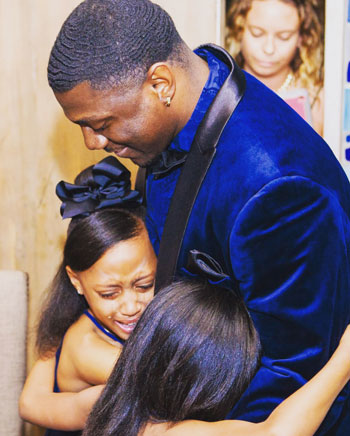 PressPlayK recorded and self-produced 'Virgo' in his mini-studio at Joliet, Illinois where he resides. Virgo is published under Sony Music Publishing through Organic Engineers for Musical Minds OEMM record label. From his inception into the music scene after the release of the single track, Operate, PressPlayK has stayed true to his roots, as a product of a musically talented family.
Born to the home of singer and instrumentalist, Marilyn Thurmond and Lonnell Thurmond, PressPlayK cousin to the late Aretha Franklin. Representing his community, PressPlayK is inspired through gospel sounds, implementing gospel quartet elements to his music in combination with original 90s RNB and Modern-day Trap, Soul, and Hip-hop. This blend produces a rich arrangement reminiscent of each element in a novel innovative manner.
On the inspiration behind the album, PressPlayK stated "Virgo is my most intimate thoughts in regards to the woman I'm in love with (Andrea). Although this is my first album, I put my entire heart into this project. From the production to the arrangement of the song titles.
Virgo takes a deep dive into my thoughts about her and how loving her freed me from hurt and pain". With each song being a story of its own, the tracks are all speaking of the artist's pure experience in a new loving relationship.
Virgo is filled with a testimony of change, happiness, and true love from the pure emotions of the artist. Stream 'Virgo' now on all streaming platforms; Apple Music, Sound cloud, YouTube, and others. For information, promo requests, or to schedule an interview please initiate contact through any of the following listed accounts and address listed below.
Contact info:
Name: PressPlayK
Record Label: OEMM Organic Engineers for Musical Minds
Publishing: Sony Music Phone Number: +1815-931-6097
Email- Kjthurmond9@gmail.com
Instagram – @kt_pressplayk
Spotify
https://open.spotify.com/artist/26HbLayNXtonAquoREcstn?si=-y8VfWCtRzCsZ1D5hMWDNw
Website
www.Pressplayk.com
Soundcloud
https://soundcloud.app.goo.gl/y5wtuKpVXNFnNQDBA
Youtube
https://youtube.com/user/kninekix
Where To Buy Your Music
https://music.apple.com/us/artist/pressplayk/1437076789
Please follow and like us: